This website may contain affiliate links and advertising so that we can provide recipes to you. Read my privacy policy.
This instant pot shredded chicken is the solution to all of your chicken needs! It's seasoned, moist, and easy to shred, which makes it the perfect go-to recipe when you need shredded chicken for any dish.
You need to have staple recipes on hand like this one to cover you no matter what your needs are when you are cooking! Use this shredded chicken in these egg rolls, this soup, or in this yummy pasta!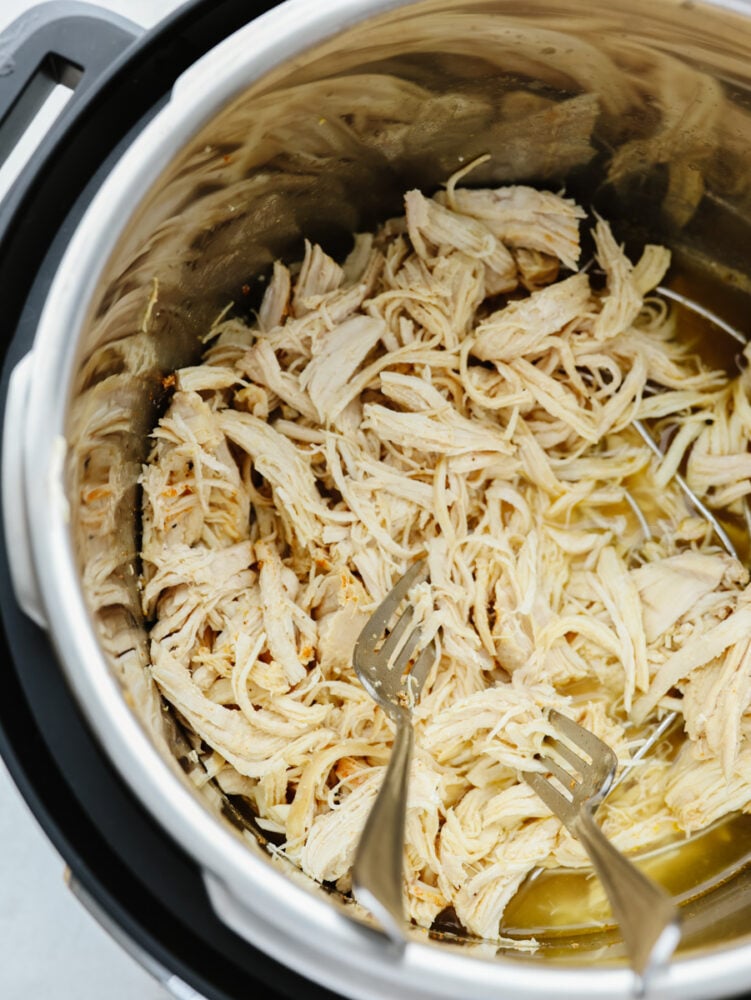 Instant Pot Shredded Chicken
Instant pot shredded chicken is a recipe that you must file away somewhere that you have easy access to because you will be making it all the time! You know how some recipes call for shredded chicken? And then you cringe because you don't have the time to cook chicken on top of cooking the actual recipe? That's where this recipe will swoop in and save the day!
This instant pot shredded chicken takes less than 30 minutes from start to finish and is SO easy! It only takes 5 minutes to prepare the chicken. Then, you put it in the pot, and all that you have to do is wait. No more cooking required. This chicken turns out to be the juiciest, most delicious chicken that's perfect for any recipe! You can start cooking up whatever you want for dinner, and this will cook in the background on its own!
Ingredients to Make Chicken in the Instant Pot
The best part about this recipe is that it's not only fast, but it only takes FIVE ingredients to make these. And you probably have them all on hand! See the recipe card below for a list of exact measurements.
Chicken Breasts: You can use frozen or fresh for this recipe.
Garlic Powder: This adds a slight hint of flavor.
Paprika: The paprika adds a sublte sweetness.
Salt and Pepper: These season the chicken and enhance it's flavor.
Chicken Broth: The Instant Pot always needs at least a cup of liquid in it to work properly. The chicken broth is great because it adds to that delicious and juicy flavor.
How to Make Shredded Chicken in the Instant Pot
Trust me when I say that you will use this recipe over and over again. This shredded chicken is the best to have on hand because you can use it in basically any recipe. You will love how easy it is to make.
Add Rub: Rub the chicken with garlic powder, paprika, salt and pepper.
Put Broth in Instant Pot: Add the chicken broth to the bottom of you instant pot.
Add Chicken and Cook: Place the chicken into the instant pot. Set the instant pot in the sealing position and cook on high pressure for 10 minutes. (The instant pot will take about 10 minutes to get to the temperature and then the timer will start.
Instant Release: When the chicken is done, release the pressure and carefully open the lid. Shred the chicken with two forks.
When is Chicken Fully Cooked?
Safety first! When you are cooking meat, it's always a good idea to make sure that it's cooked all the way through before you eat it. Use an internal meat thermometer to check and see when it's done. Chicken is safe to eat when it reaches 165 degrees Fahrenheit.
How to Freeze Shredded Chicken
Shredding your instant pot chicken and freezing it for later is a great way to ensure that you have this on hand for every recipe that might call for it! So make a few batches and stick them in your freezer!
Cool and Divide: Once your chicken has cooled down then you can divide it into portions. I like to do about 2 cups when I freeze chicken because I find that most recipes will call for that amount or a little bit less. Put each portion in a plastic bag, seal it up and write the date on it. Place it in your freezer. I like to lay mine flat so that it takse up less room.
Thaw: When you know that you will need your chicken, you can thaw it overnight in the fridge and it will be ready to go the next day!
How long does froen chicken last? This shredded instant pot chicken will last about 4 months in your freezer!
What to Cook with Shredded Chicken
Like I said before, this recipe is going to be a go-to recipe because there are so many recipes that call for cooked, shredded chicken! In fact, I have rounded up a few of my favorite recipes that call for that. There is a wide variety so I'm sure that you will find something that you love! Enjoy!