This website may contain affiliate links and advertising so that we can provide recipes to you. Read my privacy policy.
Mexican dinner night is fun and easy with these Crockpot Chicken Fajitas! They are loaded with chicken, bell peppers, onion, and spices, then served with all your favorite toppings.
Be sure to serve your fajitas with Horchata, Tortillas and Rice for the full restaurant effect!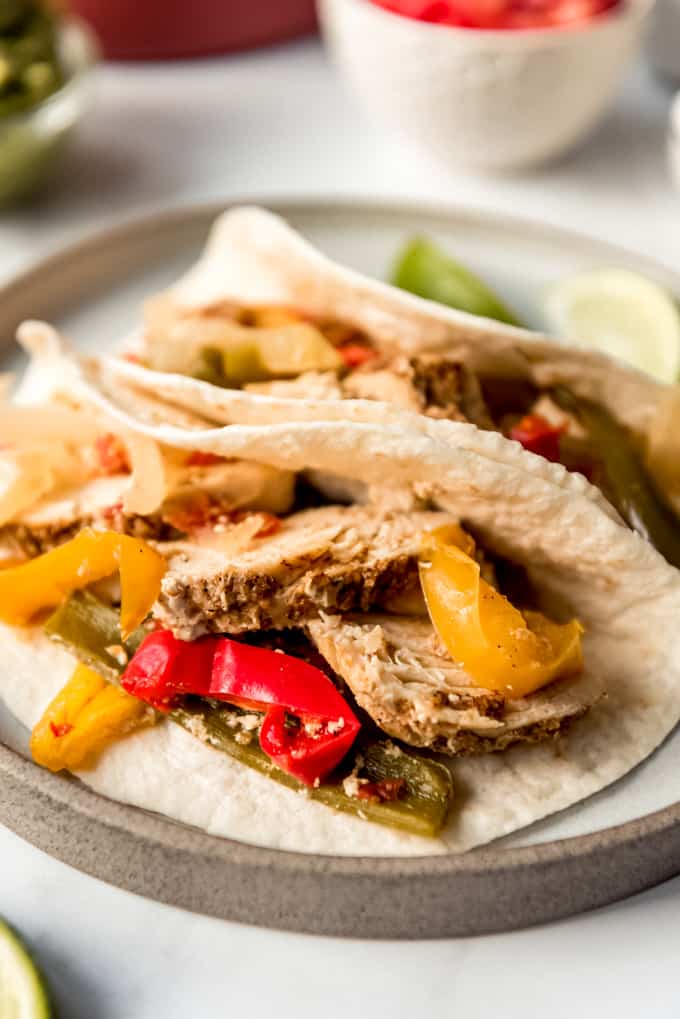 Crockpot Fajitas
Fajitas are a go-to meal when I find myself with one of those big bags of bell peppers from Costco that I want to use up. There is a lot of healthy bang-for-your-buck in fajitas because of all the veggies. For some reason, kids go crazy for fajita veggies when they won't always eat them otherwise!
The best part about fajitas is that you get to serve them family style with all the fixings like sour cream, guacamole, pico de gallo, and shredded cheese on the table. Then everybody assembles their own on soft flour tortillas. It's great for casual family dinners and is a nice change from tacos!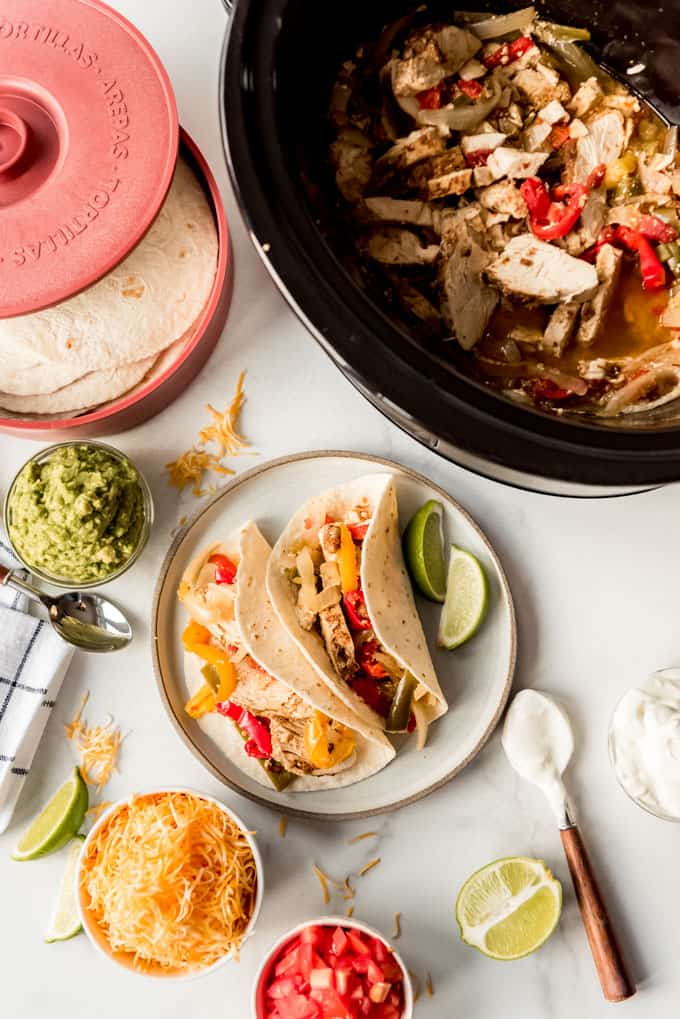 What You Need for the Best Crockpot Chicken Fajitas
As long as I have a few bell peppers in the fridge, I know I've always got everything on hand to throw these fajitas together around lunchtime so that dinner is ready on days when we have lots of afternoon activities going on.
Chicken: If you have thawed chicken breasts, go ahead and use them! But did you know that you can put frozen chicken breasts in your crockpot and they will turn out just as good?
Peppers: I like to use a variety of red, yellow, and green peppers for color. And if you don't like green bell peppers, try Anaheim or poblano peppers instead!
Onion: The sliced onions add so much flavor! They are one of my favorite parts of fajitas, so sometimes I double up on them.
Canned Tomatoes & Chilies: I always have a couple of cans of Rotel in my pantry. And I even add extra diced green chilies to the fajitas for their fantastic flavor.
Mexican Spices: Classic spices like cumin, chili powder, oregano, garlic, and coriander really boost the flavor quotient of these fajitas. If you are really pressed for time, you can cheat and just use a packet of fajita or even taco seasoning from the store.
All the Fixins': You'll want to have smaller, fajita-size tortillas, shredded cheese, sour cream, pico de gallo, cilantro leaves, and guacamole or sliced avocado to dress up your chicken fajitas. I also like to put out lime wedges for a squeeze of fresh lime flavor over mine!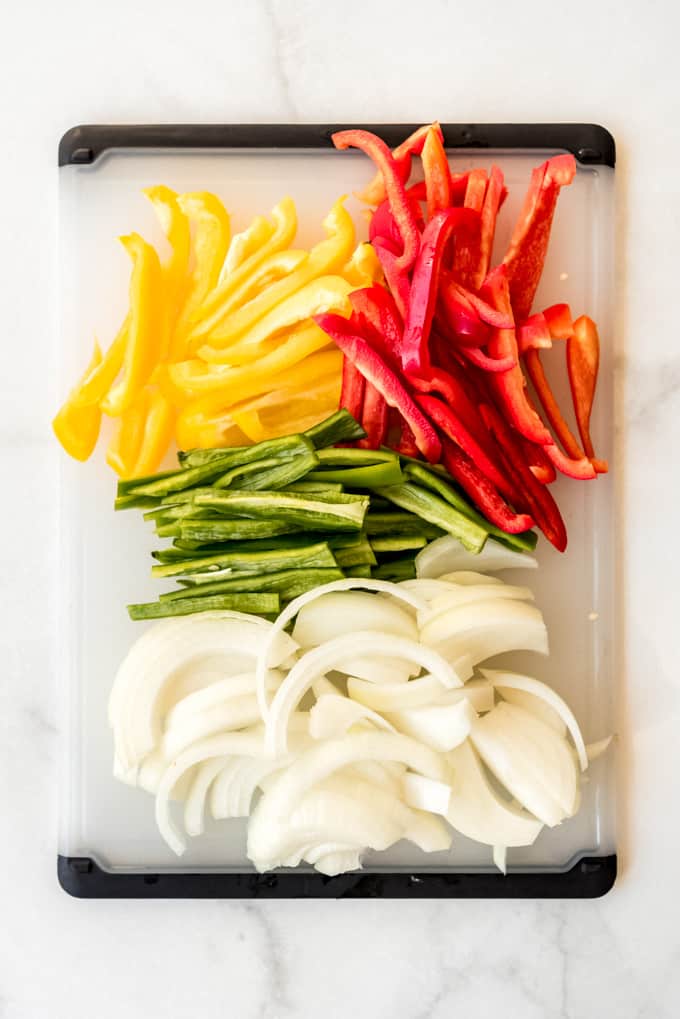 How to Make Tasty Chicken Fajitas in the Crockpot
This recipe is as easy as it gets! You can even chop all the veggies earlier in the week and keep them in the fridge so that there is less prep work on the day you know you will be busy!
Chop the veggies: This is the most hands-on part of the whole recipe, but you can use a shortcut and buy precut peppers and onions at many stores. Slice the peppers and onions into strips that are roughly the same size so they cook evenly.
Layer & season: Add half of the peppers and onions to the bottom of a 6-7 quart crockpot, then lay the chicken breasts directly on top. Sprinkle with half of the fajita seasoning, then dump the remaining veggies on top and sprinkle with the rest of the seasoning.
Cook: Place the lid on your crockpot and cook on LOW for 4-6 hours or on HIGH for 2-3 hours. The fajitas will be ready when the chicken reaches 165 degrees F when tested with a meat thermometer. The longer you cook them, the more likely the chicken is to shred, so if you prefer slices of chicken, plan for the shorter amount of time.
Slice and serve: When the chicken is done, lift the breasts out and slice them into thin strips. Remove excess cooking liquid from the slow cooker, then add the sliced chicken back in with the peppers and onions and toss. Serve hot with all the fixings!
Tips for Easy Crockpot Chicken Fajitas
Crockpot cooking is pretty straight forward and a great way to get dinner on the table without having to cook chicken and peppers in batches on the stovetop or stand manning the grill. Here are a few tips to help you make your chicken fajitas just how you like them!
Be sure to pick up fajita-sized tortillas at the store and warm them in the microwave to make them more pliable and delicious. You can use flour or corn tortillas, but the smaller size is best for fajitas!
If you prefer your vegetables more tender-crisp with a bite of bite to them, wait to add them until the last 30 minutes and just cook the chicken with the spices.
Unlike many cuts of beef which can seem to cook forever in the slow cooker without getting overdone, chicken will tend to dry out if cooked too long.
Leftovers are fantastic on a salad, in a burrito, or even on a baked potato the next day for lunch! You can just reheat in the microwave or on the stovetop for a couple of minutes.
If you like more peppers or onions, you can always double those amounts in this recipe!
More Chicken Crockpot Recipes
Chicken is a go-to protein for many families because it's healthy, convenient, cheap and so versatile. These are some of our other favorite chicken recipes that can be made in the crockpot!