This website may contain affiliate links and advertising so that we can provide recipes to you. Read my privacy policy.
Have one of the most decadent and delectable dinner in no time with this Instant Pot Creamy Parmesan Chicken and Rice. With savory mushrooms, tender rice, and juicy chicken it's a winner, winner, chicken dinner!
Instant pots are a dream appliance since they are faster, more forgiving and it creates spectacular food. Try these instant pot favorites like this Lemon Garlic Chicken, 10 minute Spaghetti, and Chili.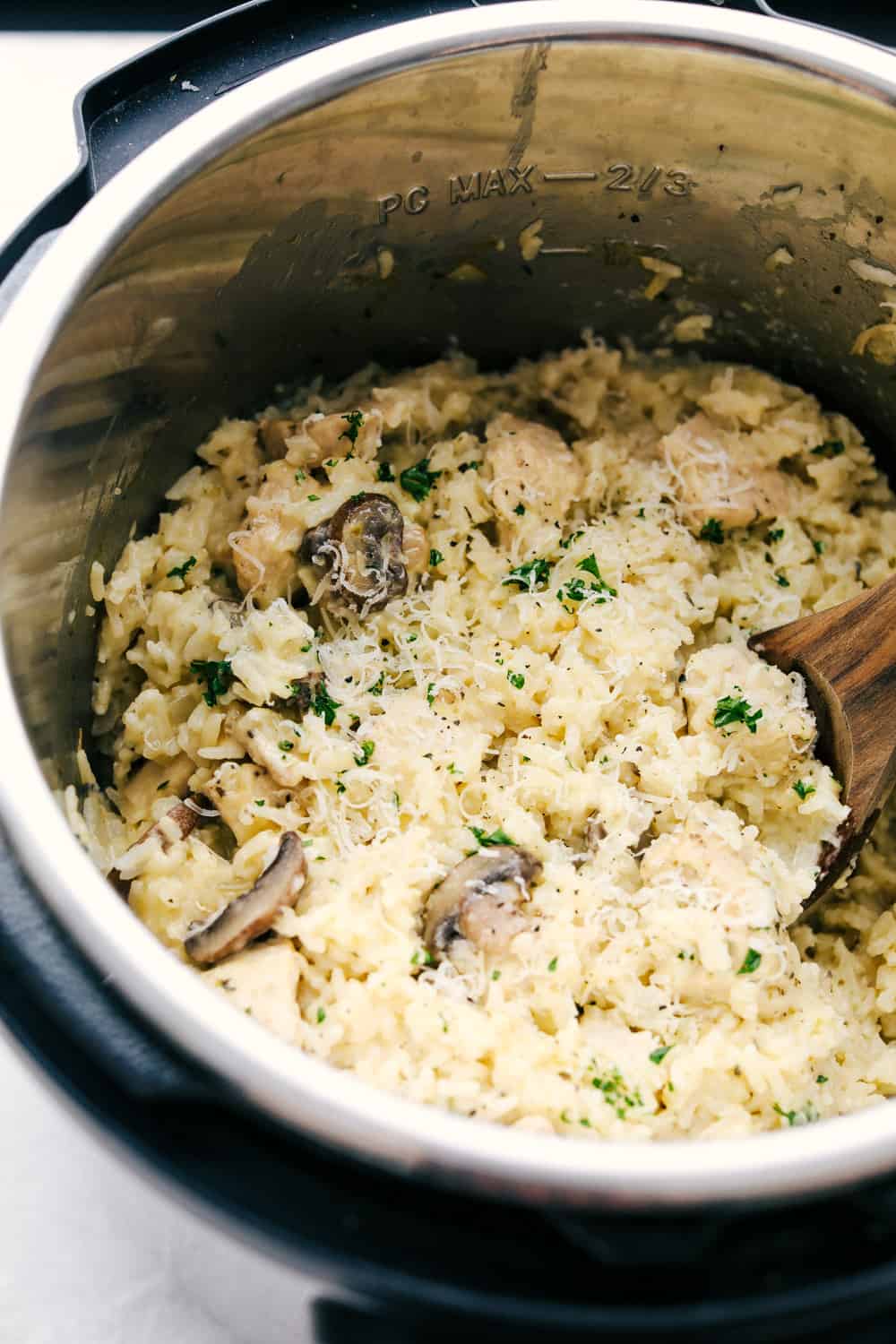 Instant Pot Chicken and Rice
Everyone has those days that there is just not enough hours in the day to get everything done. Then when it is dinner time you have no time to cook what you had planned. This is when instant pot creamy parmesan chicken and rice recipe comes to save the day. The cream and parmesan creates such a dreamy creamy texture your whole family is going to love. Tender and juicy bites of chicken provide flavor and protein. And don't forget the mushrooms, they add a great umami flavor to this delicious instant pot chicken and rice. It is the perfect chicken and rice combination!
Chicken and rice is a great comfort food. With the sensational creaminess and flavor it just fills you up perfectly. Instant pot chicken and rice is just one way to enjoy this comfort food. For more variations of chicken and rice try my casserole, one pan or this fiesta skillet recipe. Serve any of these main dishes with a batch of rolls and a nice green salad. Now you have a complete dinner that everyone will love!
Creamy Parmesan Chicken and Rice Ingredients
Simple ingredients creates this incredible chicken dish. No creamed soups in this instant pot chicken and rice. The pressure cooker does the work infusing the chicken with flavor and creating tender rice. This comes together quickly.
Olive Oil: For sautéing
Onion: Finely chopped.
Chicken: Cut into bite sized pieces.
Italian Seasoning: A perfect blend of spices.
Salt and Pepper:To taste
Chicken Broth: Creates the flavor and cooks the rice.
Rice: Rinse your rice. I used jasmine
Mushrooms: Sliced or roughly chopped
Heavy Whipping Cream: This creates the creaminess of the dish.
Shredded Parmesan Cheese: If you have it freshly grated is best.
Salt and Pepper: To taste
Chopped Parsley and Freshly shredded Parmesan Cheese for Garnish
Making Chicken and Rice in the Instant Pot
Just a little bit of sautéing is all you need to do and then let the instant pot take over with chicken and rice. A quick 8 minutes is all you need once it comes to pressure. Dinner is on the table in no time.
Sauté: Set the instant pot to sauté. Add in olive oil and onion.
Stir: Cook until it is almost tender and then add the chicken. Sprinkle the Italian seasoning and salt and pepper. Continue to sauté until no longer pink.
Combine: Add in the chicken broth, rice, and mushrooms. Cover your instant pot and make sure it is in the sealed position. Cook on manual high for 8 minutes.
Release: Carefully quick release the remaining pressure.
Finish it: Stir in the heavy cream and parmesan cheese. Serve with freshly shredded cheese and chopped parsley for garnish.
Tips for Amazing Instant Pot Chicken and Rice
Creating this instant pot chicken and rice is super simple, anyone can do it. Here are a few tips to make it irresistible.
Chicken: You can use chicken breasts or chicken thighs in this dish. Be sure to cut the chicken in the same bite sized pieces. This way the chicken will cook evenly.
Mushrooms: If you don't love mushrooms, you can leave them out all together or sub them out for zucchini, squash or broccoli.
Rice: This instant pot chicken and rice recipe is written for white rice. Brown rice will take longer to cook so I don't recommend it. I used jasmine rice in this recipe and it was delicious. Basmati is another great choice.
Creaminess: Instant pot chicken and rice is almost a risotto type consistency and texture.
Over cook:  Don't leave the chicken and rice to naturally release. It will over cook the chicken and create a gluey rice consistency. You want to quick release once the timer goes off.
Can I use Whole Chicken? This instant pot recipe is written for chicken already cut up. Using whole chicken would increase the cooking time and over cook the rice.
Leftovers:  Keep leftovers in the fridge tightly sealed for up to 3-4 days. Reheat in the microwave till just warmed through.
Are You New to the Instant Pot Family?
If you are new to using the instant pot, welcome to the family! This instant pot chicken and rice is the perfect recipe to break in your new appliance. Here are some tips about your incredible appliance!
How it works: Instant pots are a form of pressure cookers. They work by creating heat and trapping it in a tight seal. This allows the temperature to be much higher than boiling point of water and the steam can't escape. The steam cooks the food much more quickly than the traditional stovetop or oven cooking.
Can they explode?  There is that underlying fear the first time you use your instant pot that the pressure is going to build and explode. But unlike the pressure cookers of old, today's instant pots have built in sensors (about 10 of them) that will turn the cooker off or reduce pressure if they detect anything wrong. You should be safe as long as you use it properly.
Why are they so great? Instant pots are kitchen marvels. They are used for rice cooker, vegetable steamer, and roast cooker. If you can cook it in the slow cooker or oven, you can probably cook it in the instant pot in less time. They enhance the flavor of your dish by literally forcing flavor into your dish. And my favorite reason I love instant pots is that when I come home from a long day and realize I didn't get any chicken out of the freezer for dinner, it doesn't matter. I can cook the chicken from frozen and in about an hour have tender, juicy chicken ready to eat.
Do Read Your Manual! There are dos and don'ts to using an Instant Pot. It's important to get to know yours, so read the manual carefully and often.
More Chicken Dinners to Try!
Chicken is a favorite protein to cook with. It's so versatile, low fat and an incredible source of protein. Chicken and rice is just the beginning of the endless possibilities you can create with chicken. Here is some inspiration to try tonight.