This delicious, creamy chicken mushroom salad recipe is inspired by a Russian dish called 'Salat Sherlock' and can be enjoyed over shredded lettuce and favourite veggies or as a filling in a wrap or a sandwich. This chicken salad recipe is gluten-free paleo, Whole30 and keto-friendly.
---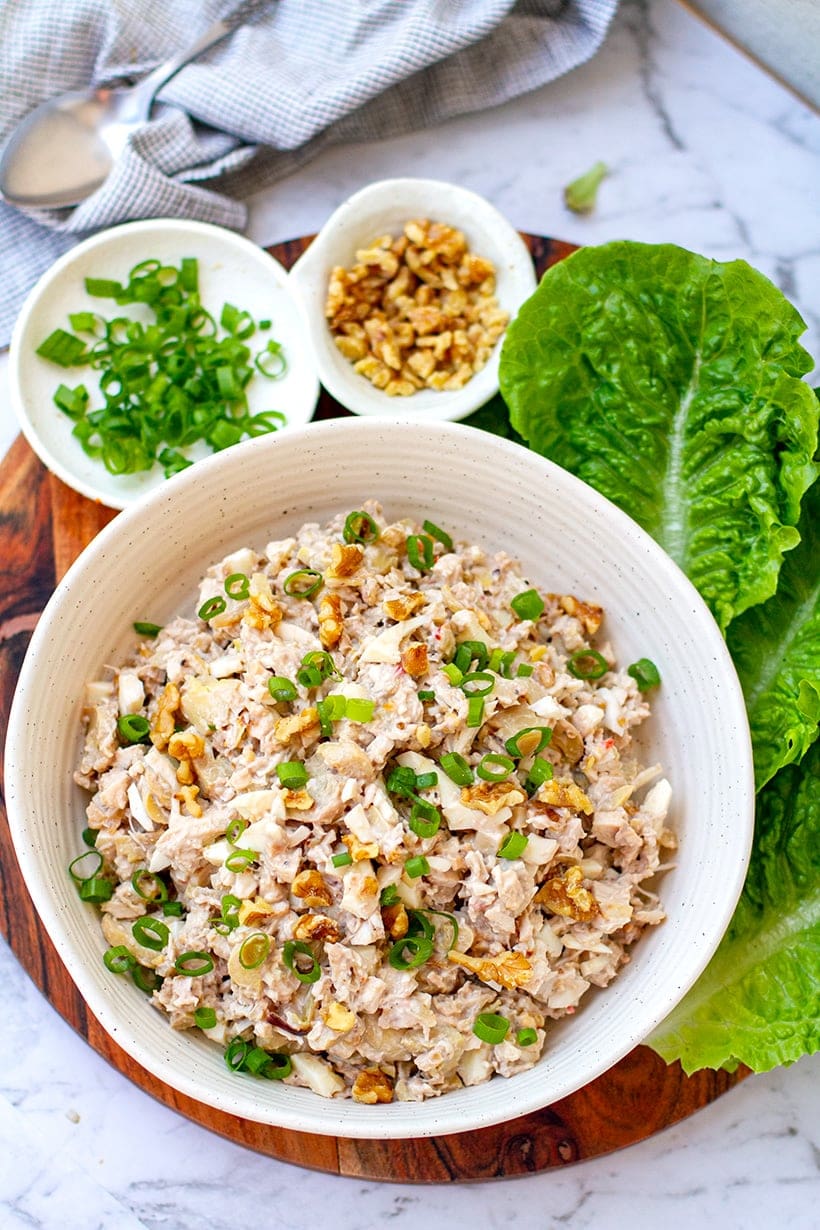 About Chicken Mushroom Salad
While going through a rabbit hole of YouTube recipe videos, I stumbled upon a Russian salad called Sherlock. It looked like a paleo and keto-friendly chicken salad, so I decided to try it out for the blog.
The reason behind the name is that for a seemingly simple dish, this chicken salad has a somewhat unique flavour (delicious, by the way!) which takes the person eating it on a bit of detective journey trying to guess what is actually inside. Hence the name 'Sherlock'.
Well, I will tell you what's inside and show you how to make it below. I really enjoyed it myself and we had it both as chicken lettuce wraps and used leftovers in quesadillas. It's super simple to make and keeps well for a few days, so you can enjoy it for lunches, dinner or as a quick snack.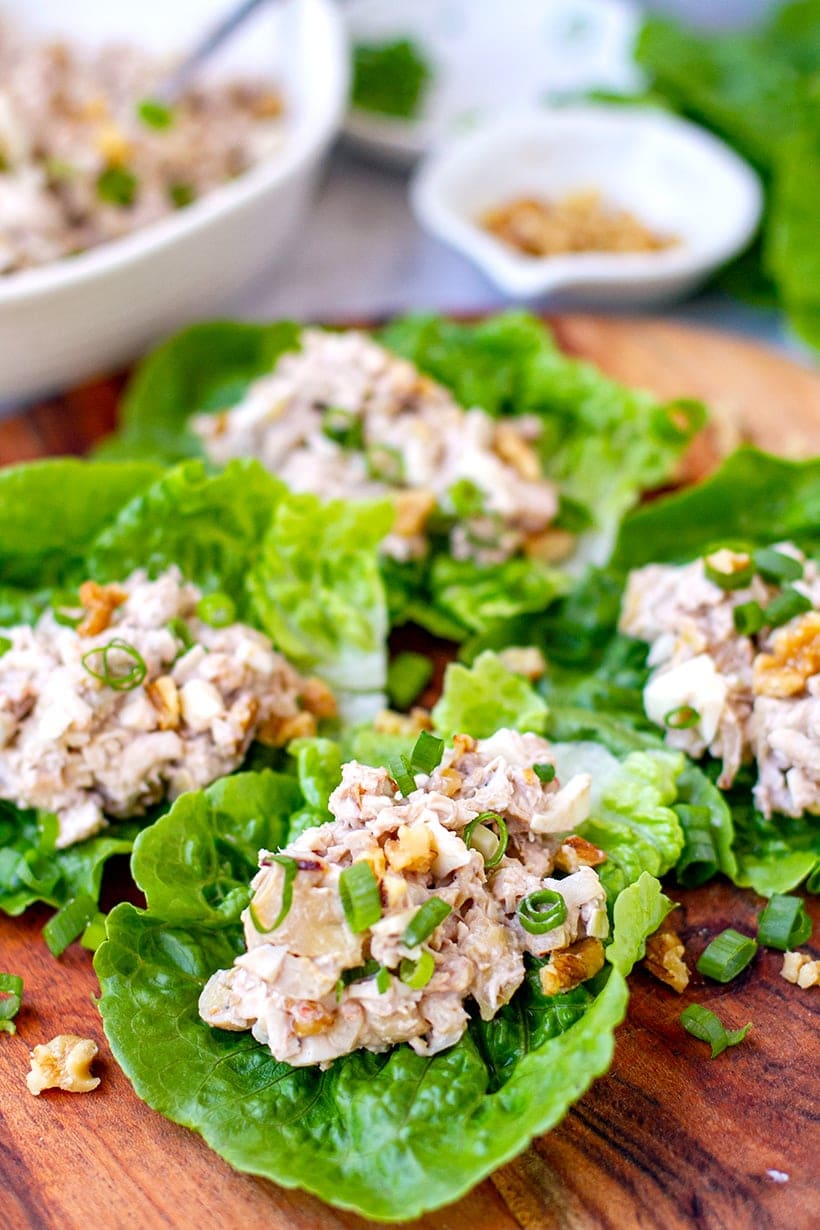 Ingredients For Creamy Chicken Salad 
This paleo and keto chicken salad is made with the following simple ingredients:
Pre-cooked chicken meat (you can use chicken breasts or thighs, I use roasted chicken you can pick up from the deli section of your supermarket)
Marinated mushrooms – you know the ones you see in the pickles/gherkins section or sometimes in a can.  They add a little acidity to the salad, which you won't get from fresh mushrooms. If you do want to slice up some fresh button mushrooms, add a little lemon juice or apple cider vinegar to the salad.
Hard-boiled eggs
Onion – it's diced and sauteed first.
Crushed walnuts, which you could swap for almonds, hazelnuts or whatever you have in the pantry.
Dressing of mayonnaise, salt, pepper and I add a little mustard and grated garlic (not pictured here).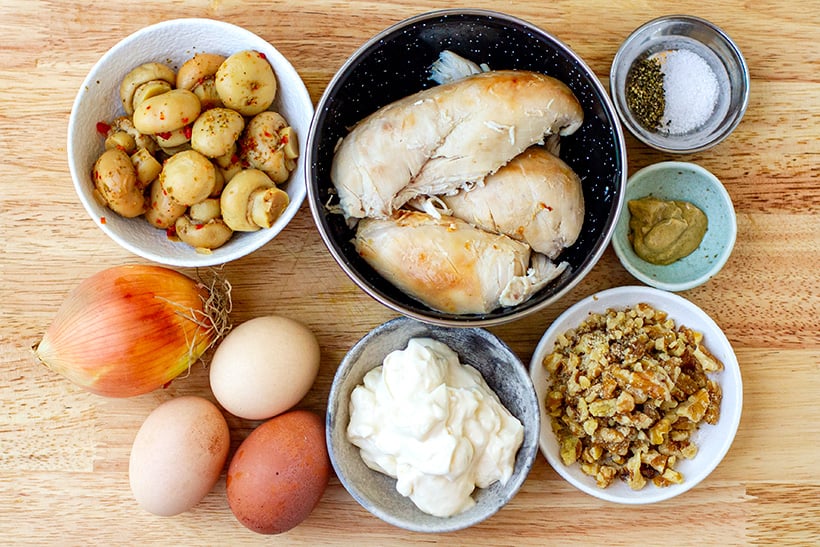 How To Make This Chicken Mushroom Salad
Find the full recipe, ingredients and nutritional breakdown in the recipe card below. Here are some step-by-step photos to guide you along. Store the salad in an airtight container for up to 3 days in the refrigerator.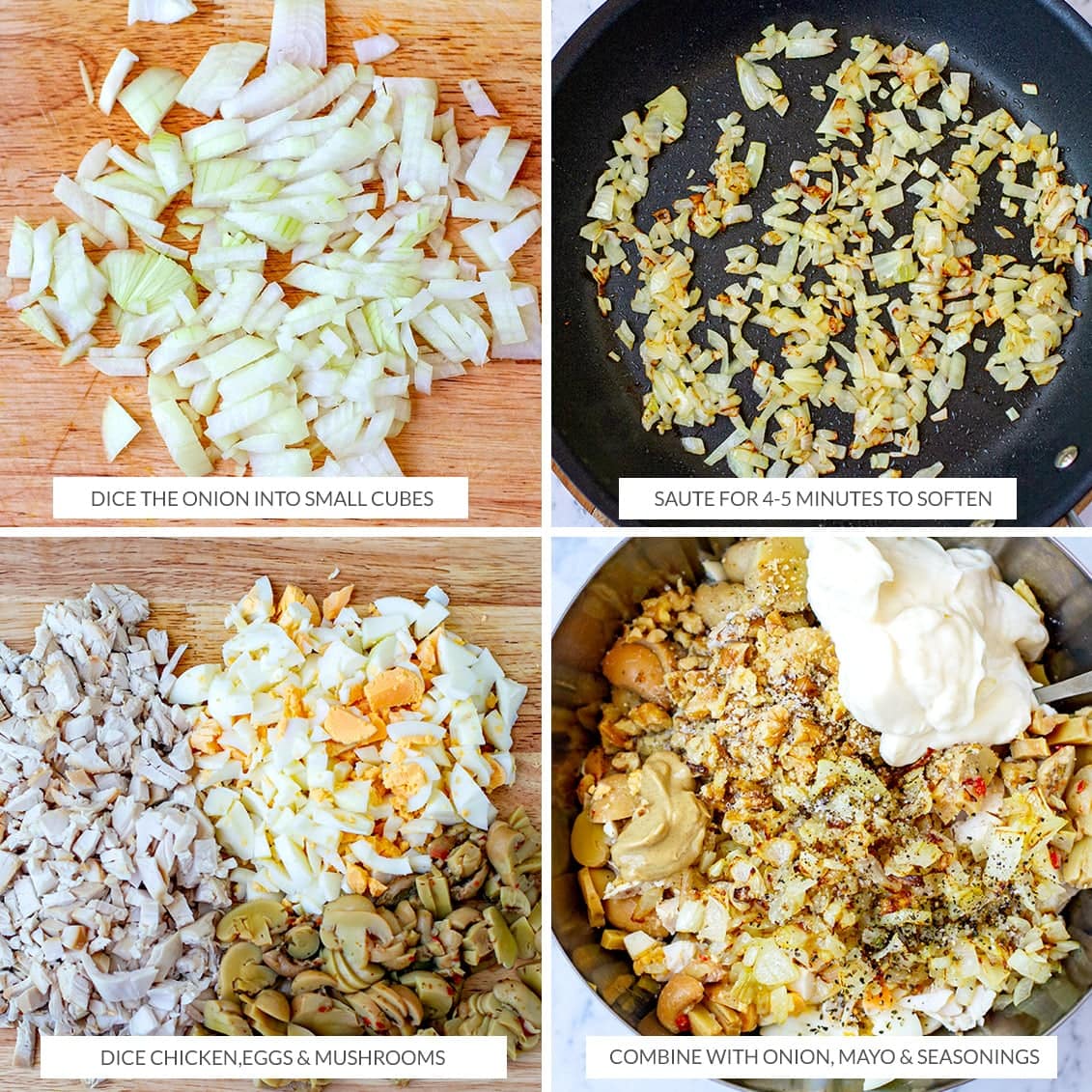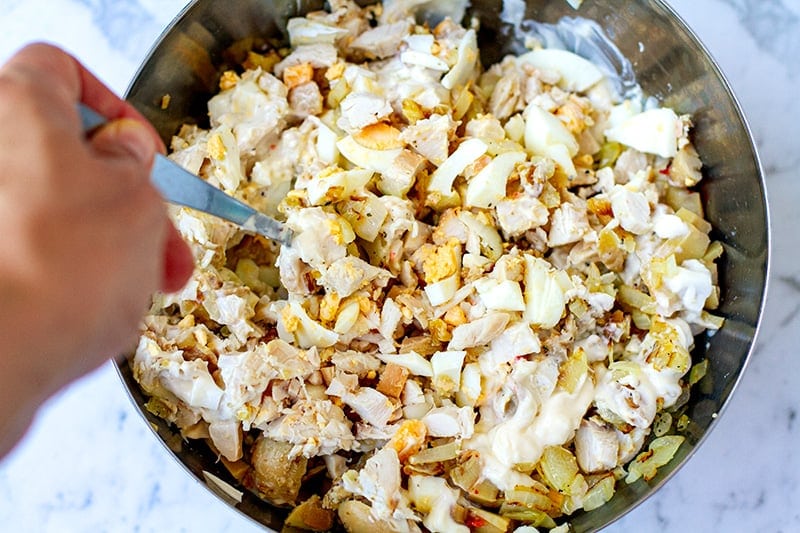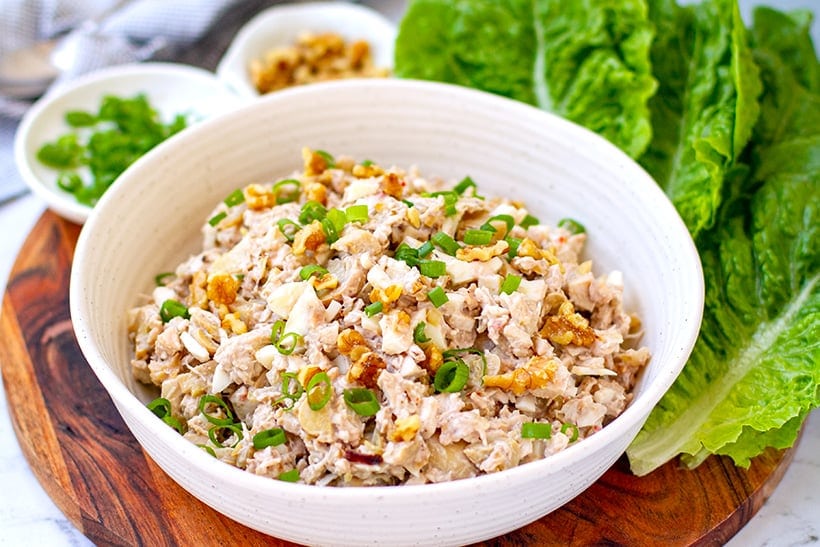 ---
More Healthy Chicken Recipes
---
Full Recipe 
Find the full list of ingredients, instructions, and a nutritional breakdown below. If you have questions or cook this recipe, please let me know in the comments, and make sure to rate this recipe so it's easy for others to find.
Print
---
Description
This paleo and keto-friendly creamy chicken salad comes with sliced marinated mushrooms, eggs and walnuts in a mayonnaise dressing and is super simple to prepare. You can have it with shredded salad and veggies or as a filling in lettuce wraps. It's gluten-free and Whole30 friendly as well.
---
---
Cook the eggs to hard-boiled if you don't have them ready ahead of time. Simply add 3 eggs to a pot of cold water, bring to a boil and cook for 8-9 minutes. Drain and leave in cold water for a few minutes before peeling.
Heat olive oil in a medium frying pan and add the onions. Saute for 4-5 minutes until soft and golden.
In the meantime, shred or dice the chicken and eggs and slice the mushrooms. Crush or chop the walnuts.
Combine everything with the fried onions, salt, pepper, mayonnaise and mustard. I really like adding one clove of grated or minced garlic for a little sharpness but this is optional. Mix everything until well combined with mayo. Serve in a bowl with a few extra walnuts on top and some chopped spring onion or chives.
Enjoy with lettuce wraps/cups, in a tortilla wrap, with a side of garden salad. You can also use this chicken salad to stuff baked potatoes or sweet potatoes or use it as a filling in a sandwich.
---
Notes
Using marinated or pickled mushrooms adds a little acidity to this salad. They usually come in a jar (like these) and can be found next to gherkins and sun-dried tomatoes in the supermarket. If using fresh button mushrooms, add a teaspoon or two of lemon juice or apple cider vinegar to the salad.
Nutrition
Serving Size:

1/2 cup chicken salad

Calories:

383

Sugar:

2.7 g

Sodium:

1092.6 mg

Fat:

32.7 g

Saturated Fat:

4.7 g

Carbohydrates:

8.8 g

Fiber:

2.8 g

Protein:

16.7 g

Cholesterol:

135.8 mg
Keywords: Chicken, Chicken Salad, Salad, Mushrooms, Eggs, Keto, Low-Carb, Paleo, Gluten-Free, Whole30