This website may contain affiliate links and advertising so that we can provide recipes to you. Read my privacy policy.
Creamy Bacon Mushroom Thyme Chicken is honestly one of the best skillet meals you will ever make! Tender chicken with a creamy sauce with bacon, mushroom, and thyme. The flavor is out of this world!
You guys. I have made a few really really good skillet chicken meals in my day. They are getting some serious rave reviews. This creamy tuscan garlic chicken or this creamy chicken marsala are just a few of the top five star recipes here on the blog. But this recipe right here is a MUST make!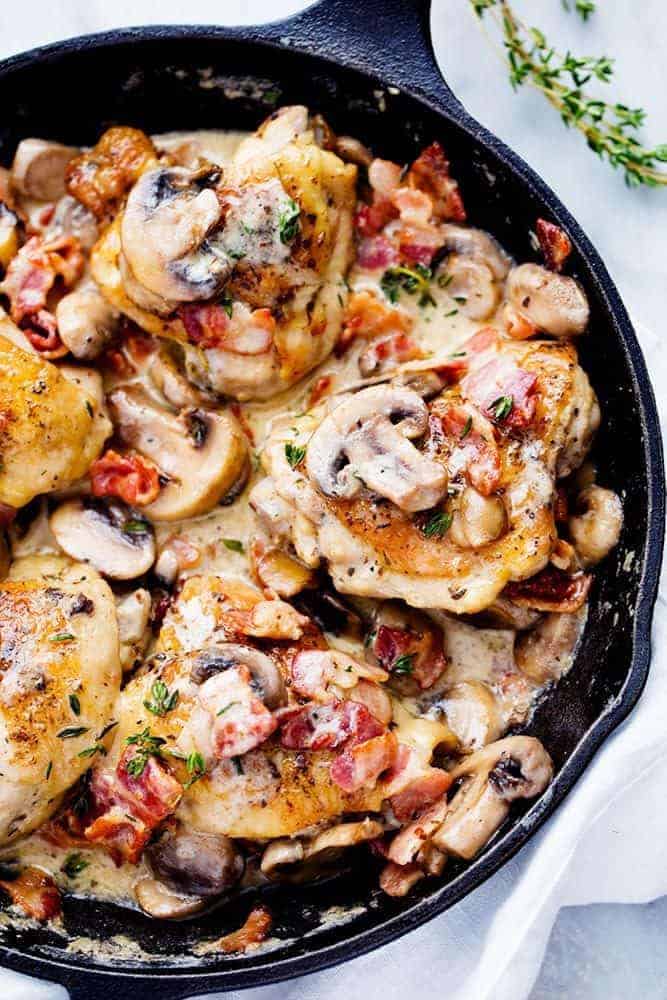 Creamy Bacon Mushroom Thyme Chicken
You can't go wrong with chicken smothered in a creamy and delicious sauce. But when you add bacon bits and mushrooms to it it takes it to a whole different delicious level. Oh and let us not forget about the thyme. Thyme is one of my favorite herbs to use in cooking and adds such amazing flavor. Seriously this creamy sauce is out of this world.
Just check out that crispy bacon and creamy mushroom thyme sauce. ??
This meal was devoured by my family. I know that you guys are going to LOVE this recipe and want to make it again and again! It is truly a five star meal that you can make right at home.
Bacon Mushroom Thyme Chicken Ingredients:
Chicken: Bone in chicken thighs are my first choice but you can also use boneless chicken thighs or breasts.
Olive oil: Adds great flavor to the chicken while it cooks.
Italian seasoning: I love the combination of flavors in Italian seasoning. (Basil, marjoram, oregano, rosemary, and thyme if you need to make your own at home.)
Salt and pepper: To taste. The salt will help bring out the other flavors so don't forget to season the chicken well.
Creamy Bacon Mushroom Thyme Sauce:
Olive oil: I recommend extra virgin olive oil for the best flavor.
White mushrooms: Sliced to add a great texture to the creamy sauce.
Bacon: Cooked and crumble the bacon in when the sauce is simmering.
Heavy cream: Bring the heavy cream to a simmer until it starts to thicken.
Salt and Pepper: To taste.
Garlic powder: Garlic powder gives the great garlic flavor that balances the sweetness of the cream and saltiness of the bacon.
Fresh thyme: Stems removed, this is my favorite seasoning in this entire dish!
Lets Cook Some Chicken Thighs:
Preheat oven and skillet: Set oven to 350 degrees. Heat a large skillet to medium-high heat.
Sear and season chicken: Add the chicken thighs and season with italian seasoning and salt and pepper. Pan Sear each side of the chicken for 1-2 minutes until brown and place skillet in oven.
Bake: Place chicken in the oven for 20 minutes or until chicken is cooked throughout. Set chicken aside on a plate.
Sauté mushrooms: Add olive oil to the skillet and sauté the mushrooms until soft.
Simmer sauce: Add the bacon, heavy cream, salt, pepper, garlic powder and thyme. Bring to a simmer until the sauce starts to thicken. Add the chicken back to the skillet and heat for another minute.
Serve and enjoy immediately.
Variations for Creamy Bacon Mushroom Chicken:
Pan fry the bacon: To cook the bacon I like to cut the strips into small (1 inch) pieces before cooking.  Then pan fry them while stirring frequently to prevent burning.
Then, depending on the bacon you use, you can cook the mushrooms in the drippings from the bacon instead of oil.
Cream sauce: Replace the heavy cream with 1 ½ cups of half and half.  If you need to thicken the sauce, add a little bit of flour.
Instant Pot Chicken: Cook the chicken in an Instant Pot instead of the oven: You still need to sear the chicken first.  Then, place in your IP with about a cup of water.  Use the "meat" function for 10 minutes on the normal section.
Service!  My kids don't love their food covered in the sauce, so I plate the chicken without putting it in the sauce at the end.  I simply plate the chicken up separately and drizzle the sauce over the chicken instead or put the sauce in a small bowl for the girls to dip their chicken in.
Storing Chicken Thighs:
What is the deal with all the family packs of chicken lately? It seems like everywhere I shop I am seeing more and more of the huge packs of meat.  Its usually fine for me to buy in bulk with my big family, but for times when I am not cooking for the whole crew, that is a lot of meat! You may be in the same boat and looking to cook for one or two and are leery of a huge pack of chicken.  Well, I have good news for you, this chicken will store SO nicely.  So, buy the bulk pack and get that great deal, and I will give you the quick and easy info on storing the leftovers!
Storing Raw Chicken:
Keep up to 2 days in the refrigerator in its original wrap in the coldest part of the refrigerator.
Do not rinse raw chicken.
Store in a container on the bottom shelf so that it does not drip on other items.
Your refrigerator should be between 38-40 degrees F.
To freeze: Wrap each piece of chicken in separate pieces of foil or freezer bags, then put all pieces in one larger piece of foil or a large freezer bag.  That way you can pull out just what you need when you need it.  When stored properly, the chicken will last up to 9 months in the freezer.
Storing Already Cooked Chicken:
Leave out no longer than 2 hours before refrigerating or freezing after cooking.
Refrigerate the chicken in shallow airtight containers or wrap tightly with heavy-duty aluminum foil or plastic wrap.
If correctly stored, cooked chicken will last for 3 to 4 days in the refrigerator and 4 months in the freezer.
Once you thaw your cooked chicken in the refrigerator, it can stay an additional 3-4 days in the refrigerator before cooking.
If you thaw chicken in a microwave or in cold water, it should be eaten immediately after warming it up.
More Skillet Chicken Recipes to Try: