These Chicken Teriyaki Burgers are amazingly simple while also being ridiculously delicious. Caramelized burgers that are fried up in minutes, a pile of sesame slaw on top, and a perfectly toasted bun. YUM.
What's In This Post
---
Lindsay's Notes
Coming in hot: the last recipe for this run of the SOS series, AND my new favorite recipe!
It's super easy (thank you, store-bought sauces) and the flavors feel almost universally appealing. It's the epitome of crowd-pleasing. In my life, it was quickly approved by all categories: kids, husband, and friends. And most importantly, VERY approved by me.
The simplicity but also the layers? The salty-sweet with the tangy and the buttery, sesame depth? I don't exactly know what made me fall so hard and fast, but I could eat this every night for a week and not get sick of it.
Toasted brioche always does it for me – you get that signature crispy inside, soft-squishy-outside, and I've found that I really enjoy these with a shmear of yum yum sauce! It's sweet, mild, creamy, and already in the fridge since we used it a couple weeks ago for that feisty chili crunch tofu.
The chicken teriyaki burgers themselves are juicy and caramelized, fry up in a matter of minutes, and the pile of sesame slaw on top is perfectly tangy and vinegary. I'm drooling just thinking about them. GO!
---
Make The Sesame Slaw
Toss cabbage with rice vinegar, sesame oil, salt, and sugar.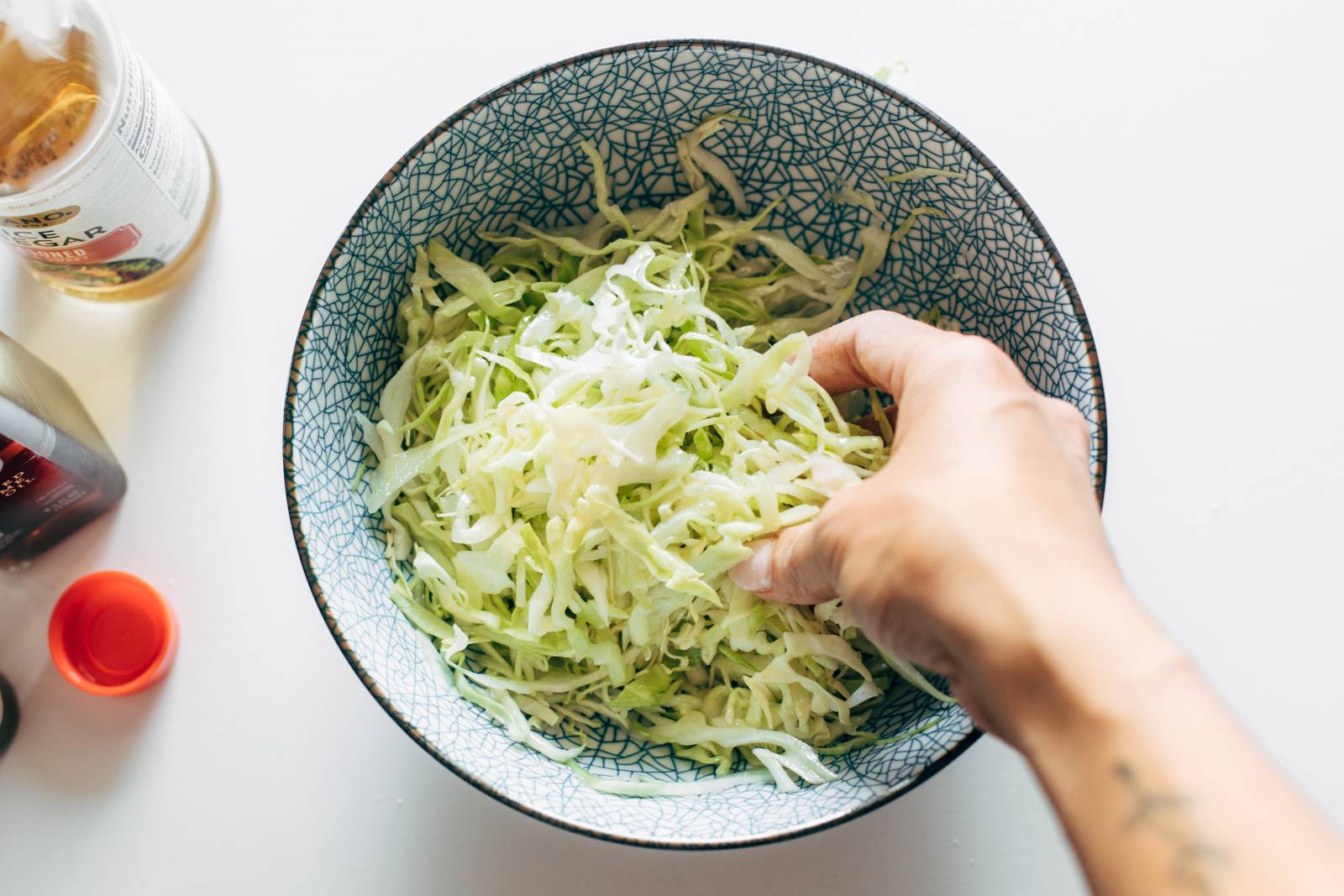 Toast Your Buns
I use brioche buns, and I toast them in a dry skillet over medium heat until golden and soft.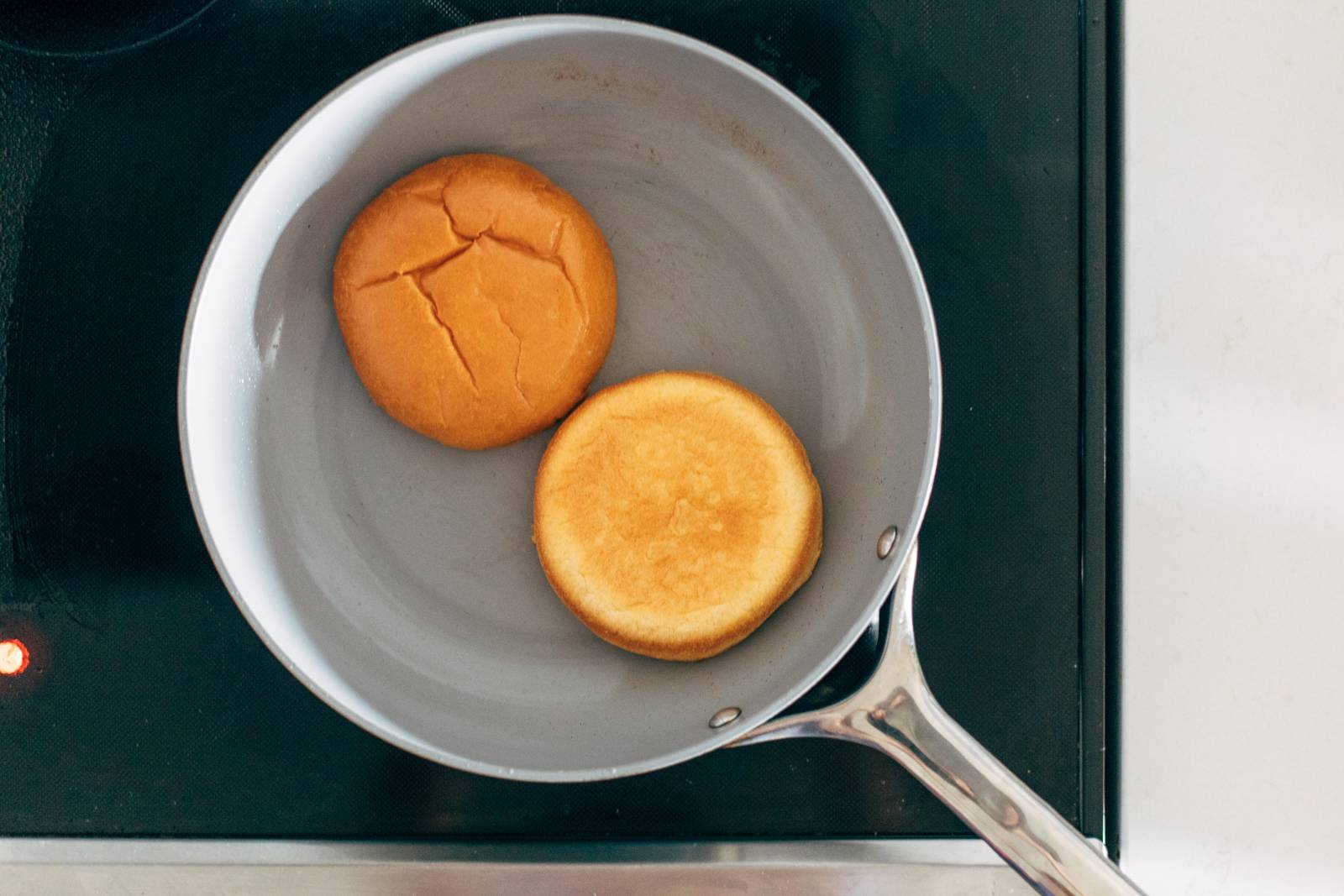 Make The Burger Mix
Just ground chicken, teriyaki, and panko, plus some salt and garlic powder.
Fry Your Burgers
I split the chicken into 4 chunks, form into burgers, and fry them in batches in a nonstick pan or grill pan.
Assemble The Teriyaki Burgers
I like to use Yum Yum sauce on the buns (top and bottom) and then top with a burger patty, slaw, and gently squish it together into one amazing sando.
---
Related: As long as you've got teriyaki sauce in the house, do NOT miss these Crunchy Roll Bowls – one of our most popular recipes!
Chicken Teriyaki Burgers Video
Print
Description
These Chicken Teriyaki Burgers are amazingly simple while also being ridiculously delicious. Caramelized burgers that are fried up in minutes, a pile of sesame slaw on top, and a perfectly toasted bun. YUM.
---
Chicken Teriyaki Burgers
Sesame Slaw
Extras
---
Make the Sesame Slaw: Toss the slaw ingredients together. Taste and adjust.
Make the Burgers: Combine chicken, teriyaki sauce, panko, salt, and garlic powder in a large bowl. Mix with your (clean) hands until well-combined. Form into 4 large patties.
Fry the Burgers: Heat a bit of avocado oil over medium heat. Add the burgers to the hot pan and cook for 3-5 minutes until golden and mostly cooked through; flip to finish for another 2-3 minutes. Cook until no longer pink in the middle, or a meat thermometer registers at least 165 degrees Farenheit.
Toast Buns:  Wipe out the skillet if there are burned bits left in the pan. Pop your buns into the skillet for just a second, cut side down over medium low heat, to get them lightly toasted.
Assemble Burgers: Spread top and bottom buns with yum yum sauce, place a burger, and top with the sesame slaw. Press burgers together, slice into it, and enjoy your life. I love these so much.
Notes
Burger Mixing: If the mixture is sticking to your hands while forming the burgers, try getting them a little bit wet with water. That usually helps me with the sticking.
Prep Time:

10 minutes

Cook Time:

15 minutes

Category:

Dinner

Method:

Stovetop

Cuisine:

Asian-Inspired
Keywords: chicken teriyaki, teriyaki sauce, teriyaki burgers, slaw, burger with slaw
Recipe Card powered by
How Do You Make These Chicken Teriyaki Burgers Gluten-Free?
Here are the products I would use to make this gluten-free:
In place of the buns: Udi's Gluten Free Burger Buns
In place of the teriyaki: Primal Kitchen Gluten Free Teriyaki Sauce
In place of the panko: finely chopped nuts, or crushed Rice Chex cereal
Can You Use a Different Kind Of Protein In The Burgers?
Yes! Other protein options:
What Brand Of Teriyaki Sauce Is Best?
I exclusively use SoyVay Veri Veri Teriyaki. I love that stuff.
What Goes Well with These Burgers?
Some ideas:
How Do These Burgers Keep As Leftovers?
Buns: these do well in storage, even after toasting! Just keep them in a ziplock-type bag for a couple days.
Cabbage: the slaw doesn't keep well, so while you can prep the cutting ahead of time, the saucing and tossing is best right before serving.
Burgers: the cooked burgers will keep in the fridge for 1-2 days and can be reheated on the stove or in the microwave. I think they are better made and eaten fresh, but I am not above eating these as leftovers.
More Favorite Burger Recipes