This website may contain affiliate links and advertising so that we can provide recipes to you. Read my privacy policy.
Baked chicken spaghetti is an easy dinner casserole to feed a family. Tender pieces of chicken tossed with tender noodles and a creamy tomato sauce. 
Try these other tasty sharable baked dinner recipes to make during the week, like this Tuna Noodle Casserole, Chicken Parmesan Casserole or Classic Baked Spaghetti.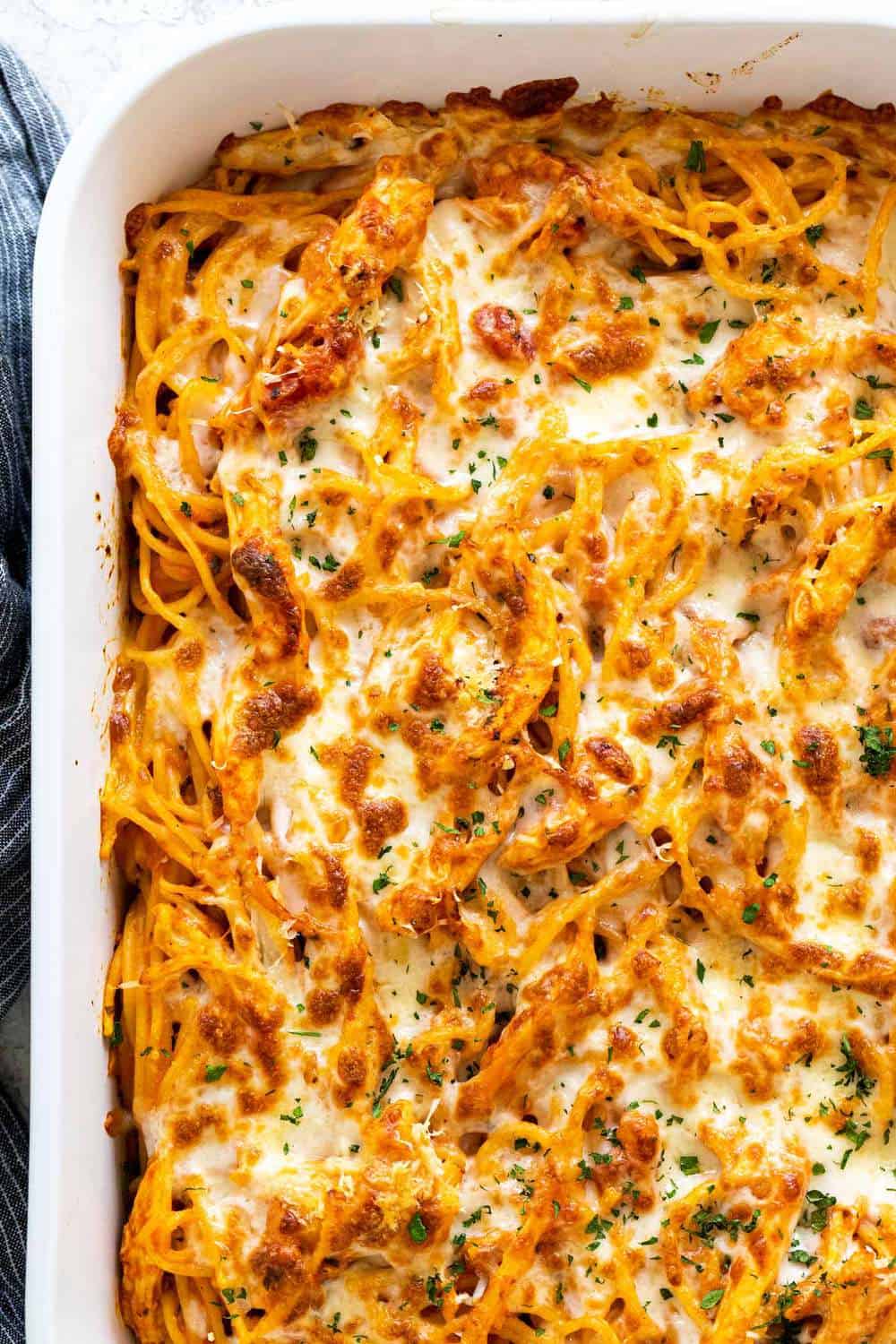 Baked Chicken Spaghetti
Making a big tray of spaghetti is the ultimate comfort food to feed your family. Elevate the flavor of a simple marinara sauce with fresh ingredients and a touch of cream. To make this a more satisfying entree, I add in big pieces of chicken for extra protein. Top with melted cheese. This casserole is our family's favorite Italian meal when I'm not making this irresistible baked ziti. 
How to Make Baked Chicken Spaghetti
Boil the dried spaghetti noodles in salted water until al dente.

Rinse the pasta with cold water and then drain.

In a large pan, saute onions, garlic, and Italian seasonings in olive oil.

Stir in the marinara sauce and cook until hot.

Turn off the heat and stir in the heavy cream.

Toss the spaghetti and shredded chicken with the sauce.

Add the pasta to a casserole dish and top with mozzarella and parmesan cheese. 

Cover and bake until the cheese is melted, about 15 to 20 minutes. 

Garnish with parsley and serve the baked chicken spaghetti while hot. 
Make A Creamy Marinara Sauce
To make this dish quick and easy, you can use store-bought marinara sauce as the base. I like to saute freshly chopped onions and garlic to add depth to the canned sauce. Some dried Italian seasonings add a pop of herbaceous notes. 
Make sure to turn off the heat when adding in the dairy. This process will prevent the cream from curdling. The fat from the cream adds a luscious texture to the sauce. You can double the recipe if you like extra saucy noodles. 
Chicken Options
Use any type of cooked chicken to the dish. Sauteed, grilled, or baked chicken breasts work well. If I have leftover rotisserie chicken, it's perfect for shredding and adding into the pasta. You will need at least 2 cups of chicken, but add 3 cups for more protein per serving.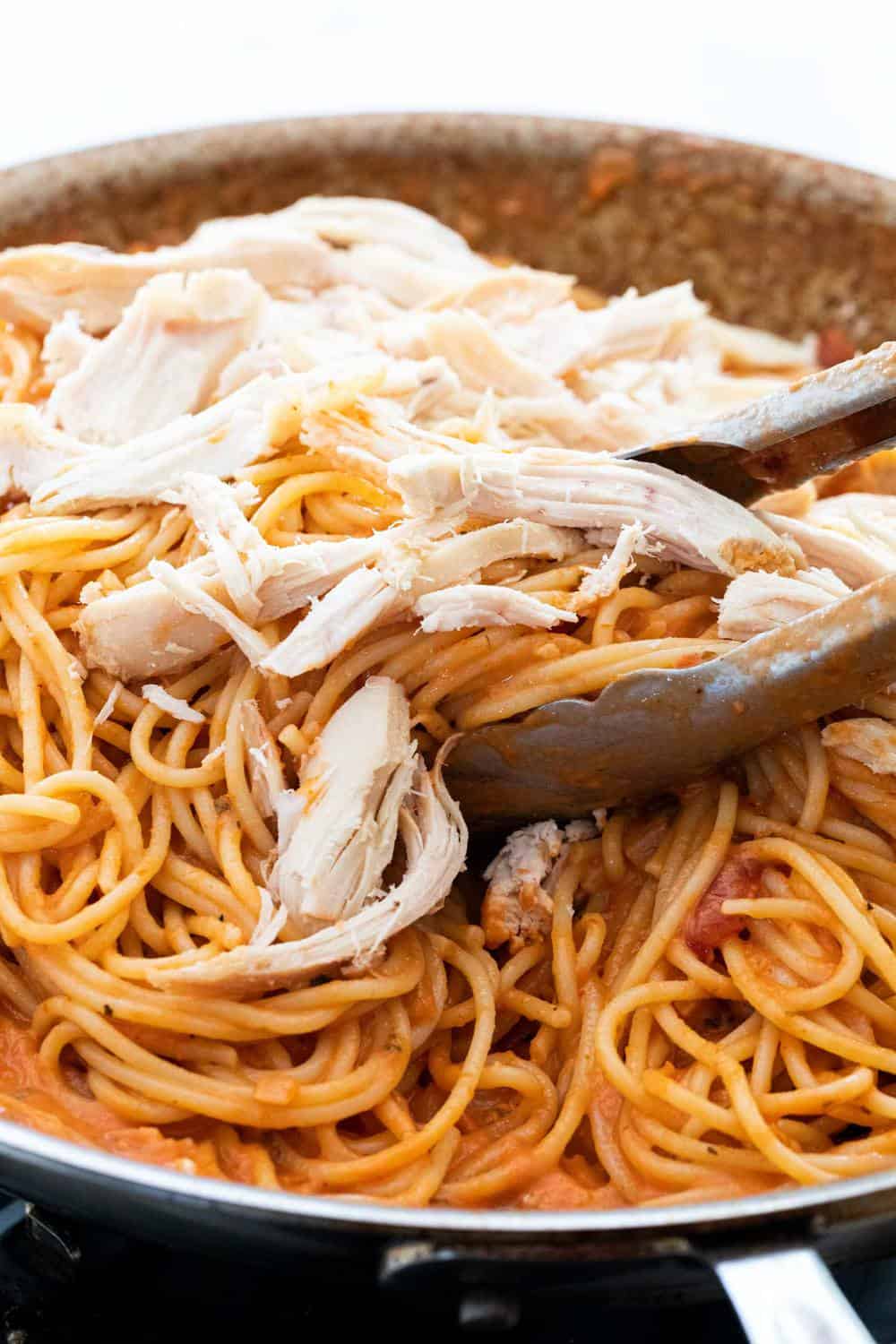 Baking The Pasta Casserole
To add a cheesy crust to the pasta, I use shredded mozzarella and parmesan cheese. These cheeses give a melty texture and a lovely aged, nutty flavor from the parmesan. I cover the casserole dish and bake at 375 degrees. This temperature helps to melt the topping and heat the pasta without it drying out. If you like the cheese browned, broil it for a few minutes right before serving.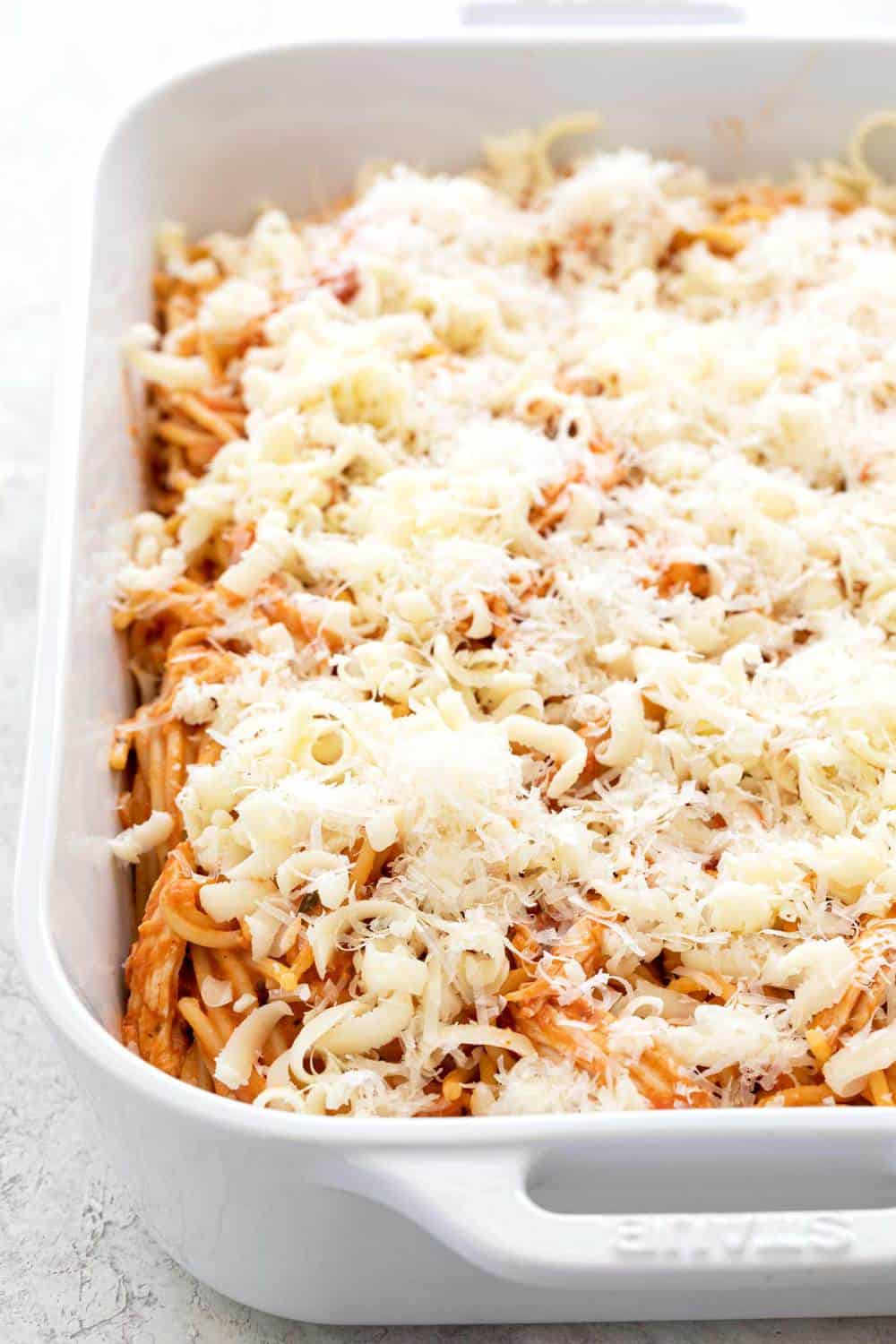 Other Spaghetti Add-Ins:
To make the sauce spicy, stir in some red pepper flakes. Mix in some freshly chopped basil, oregano, or parsley for a more potent herbal taste. If you want to put some vegetables into the dish, stir in some chopped and sauteed red bell pepper, spinach, or zucchini.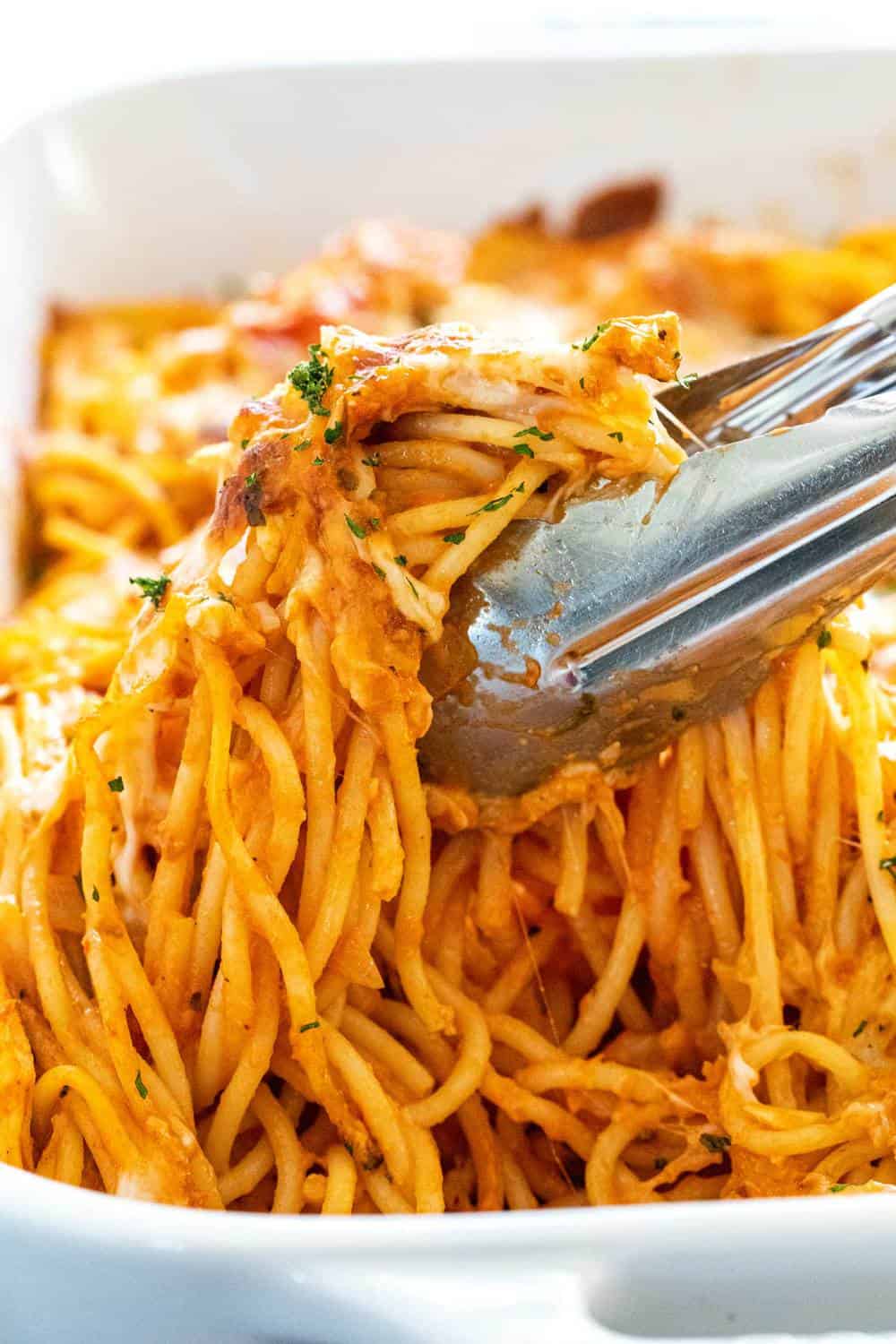 For More Pasta Inspired Recipes, Try These!