This website may contain affiliate links and advertising so that we can provide recipes to you. Read my privacy policy.
This baked chicken alfredo pasta is classic and insanely delicious. Packed with Italian seasoning, shredded chicken, and penne pasta, this entree will become a family favorite!
Chicken is always a classic go-to in our house for family dinners, and this recipe is no exception! Add some sides like roasted carrots, asparagus, and these 1-Hour Rolls for a meal that will fill everyone right up.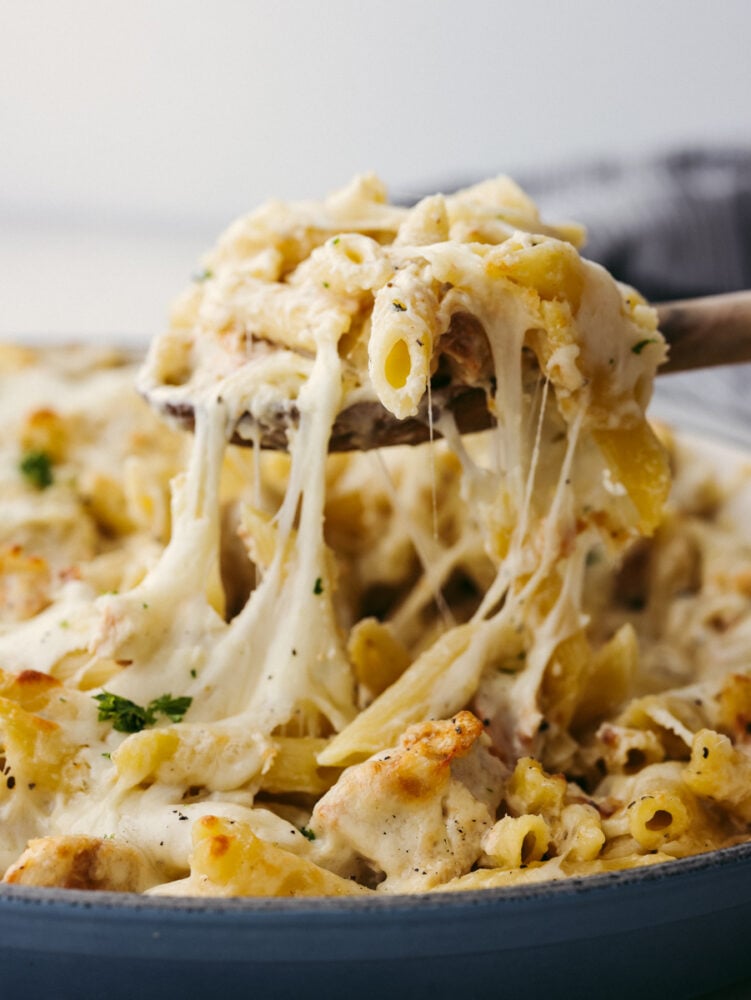 Baked Chicken Alfredo Pasta
Chicken alfredo is one of those dishes that if I see on the menu while I am with my kids, I give a sigh of relief! It's a classic dish that my entire family will eat. So, I wanted to recreate a restaurant-quality version of this at home! And I think I nailed it on the head, this recipe is GOOD! It has the perfect amount of creamy texture but not so much that the noodles and chicken are drowning in sauce.
The chicken and the pasta soak up the sauce and once you put that freshly grated cheese on top, well… Let's say that you might want to double the recipe! I love anything with alfredo, but when you can do a whole meal in one with the protein, carbs, and delicious flavor, then I call that a win! You could also top it with some broccoli and not even make any sides to go with this! This alfredo takes less than 40 minutes from start to finish so that you can have a delicious meal, even on those hectic weeknights!
Ingredients in Baked Chicken Alfredo Pasta
Making this from scratch, including the sauce, is so simple. Plus, it tastes so much better than using storebought sauce! See the recipe card below for exact measurements.
Penne Pasta: I like to use penne pasta for this recipe but you can use whatever pasta that you have on hand.
Butter: I used unsalted butter for this pasta.
Heavy Whipping Cream: This is used as the base of the sauce.
Cream Cheese: Try and take this out a few minutes before you need to use it and get it to room temperature. This will help it mix in better so that there are no lumps.
Minced Garlic: You can use gresh garlic cloves and mince them up or use minced garlic that you have on hand.
Garlic Powder: This adds in a little bit more flavor in addition to the minced garlic.
Italian Seasoning: You can use storebought Italian Seasoning or, you can make some of this homemade Italian seasoning instead.
Salt and Pepper: You need these to enhance the flavors in the dish.
Parmesan and Mozzerella Cheese: These are used in the sauce as well as on top to make this recipe super cheesy!
Chicken: Use cooked chicken that is already chopped or shredded.  
How to Bake Chicken Alfredo Pasta
This is a great dinner recipe to have on hand because you can whip it up in under an hour, and it tastes like a million bucks! Plus, everyone is going to LOVE it!
Preheat Oven and Cook Pasta: Preheat the oven to 350 degrees. Bring a pot of water to a boil and add the penne. Cook according to package directions. Drain and rinse it and set aside.
Make the Sauce: In a medium saucepan over medium hight heat, add butter, heavy whipping cream, and cream cheese. Cook until melted. Add the minced garlic, garlic powder, italian seasoning, and salt and pepper. Continue to whisk until smooth. Add the grated parmesan cheese. Bring to a simmer and continue to cook for about 3-5 minutes or until it starts to thicken.
Add Pasta and Chicken to Sauce: Add the pasta back to the pot and pour the Alfredo Sauce over it. Then add in the chicken, and stir everything together.
Bake: Add half of the pasta mixture to a 9×13 baking dish and top with 1 cup mozzarella. Then, add the rest of the pasta mixture to the dish and top with the remaining mozzarella and parmesan cheese. Bake for 20-30 minutes until the cheese is golden and bubbly.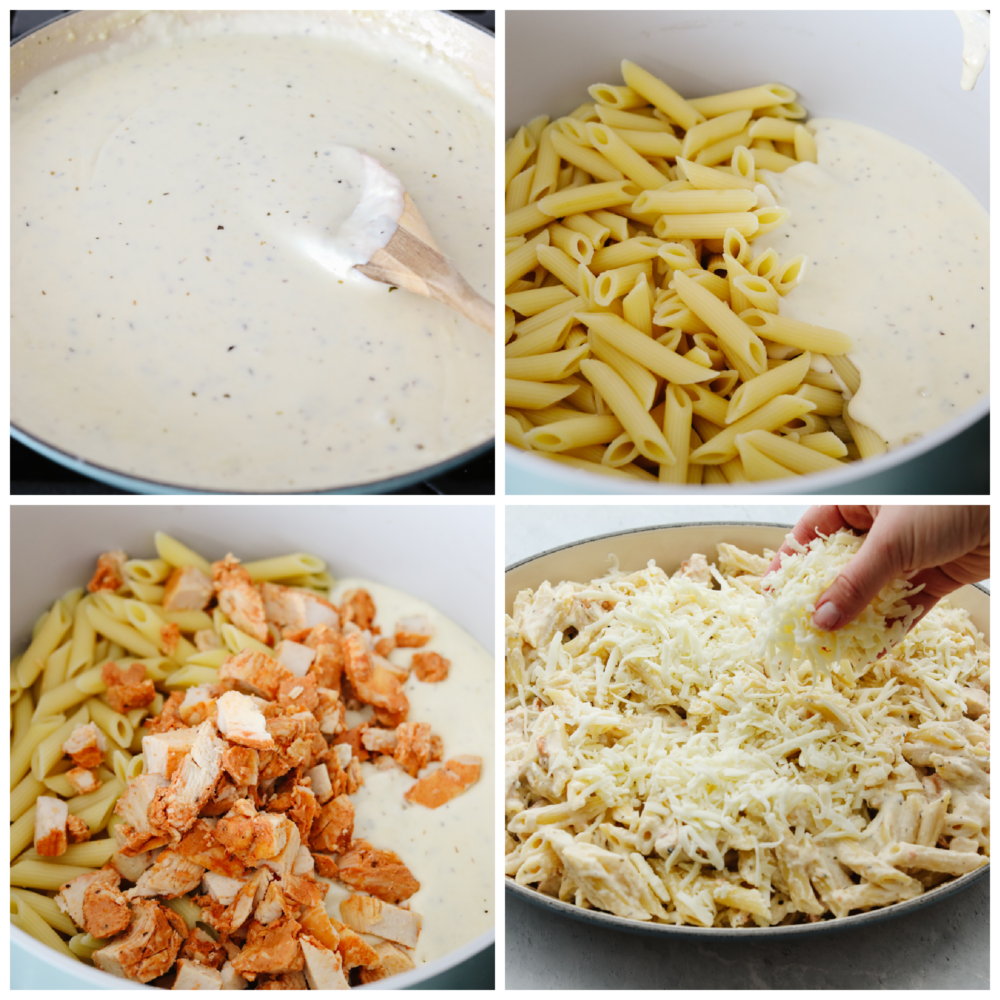 Tips and Variations
There are a few variations that you can try with this recipe to make it easier for you. Here are a few ideas!
Pasta: You can use any pasta that you have on hand. I like to use penne pasta becuase it's smaller and it bakes up well but you can use bowtie, large macaroni noodles, or rigatoni.
Chicken: An easy hack for this meal is to buy a rotissarie chicken that is already cooked and just quickly shred it up when you get home! Then, you don't have to worry about cooking any chicken beforehand.
Use Freshly Grated Cheese: I mentioned earlier to use freshly grated cheese from a block. The reason why you want to do this instead of getting pre-shredded cheese is because it will melt and mix better into yur sauce. Pre-shredded cheese has a coating on it that prevents it from sticking to the bag that its in which makes it so that it doesn't melt or mix as easily.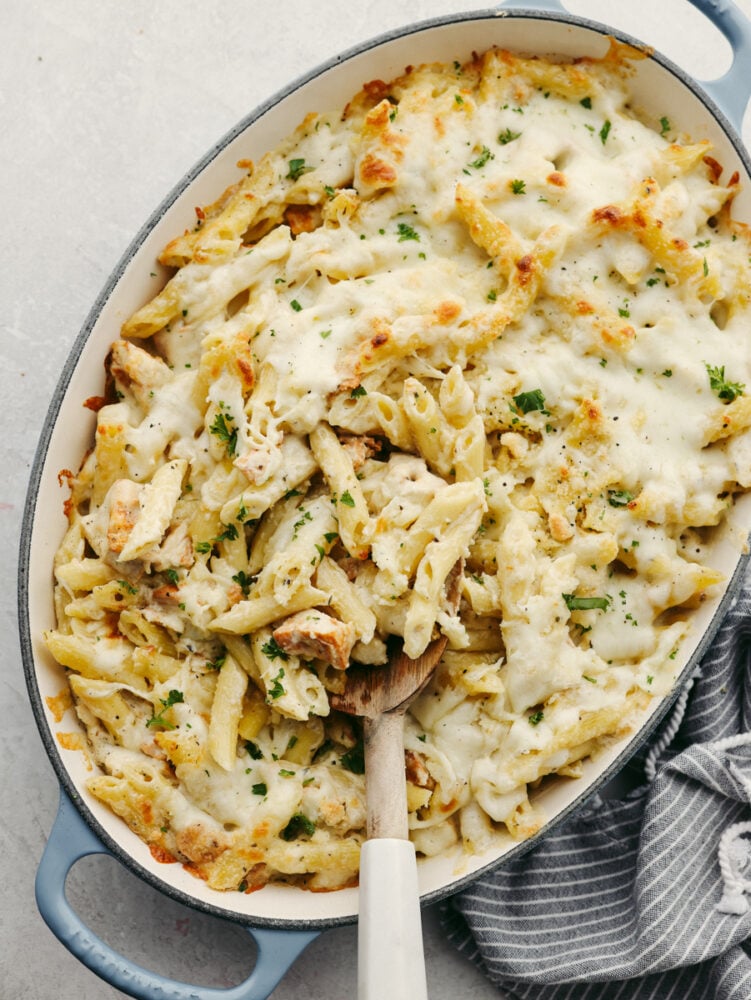 How to Store Leftovers
If you thought this chicken alfredo pasta tasted good on the first day then wait until you try the leftovers. They are SOO GOOD.
In the Refrigerator: Once the chicken alfredo has cooled then you can place it in an airtight container in your fridge. It will last for up to 3 days.  
Reheat: To reheat leftovers, you can heat them up in the microwave for 30 seconds to a minute at a time until they are warmed through.