Crispy and citrusy, this cabbage apple and fennel slaw is the perfect side salad to serve any time of the year. It's great at barbecues and summer picnics, as a side dish with baked chicken or fish at home, or in a lunchbox with some added protein. you can make all elements for this salad ahead of time and assemble it just before serving for extra freshness.
---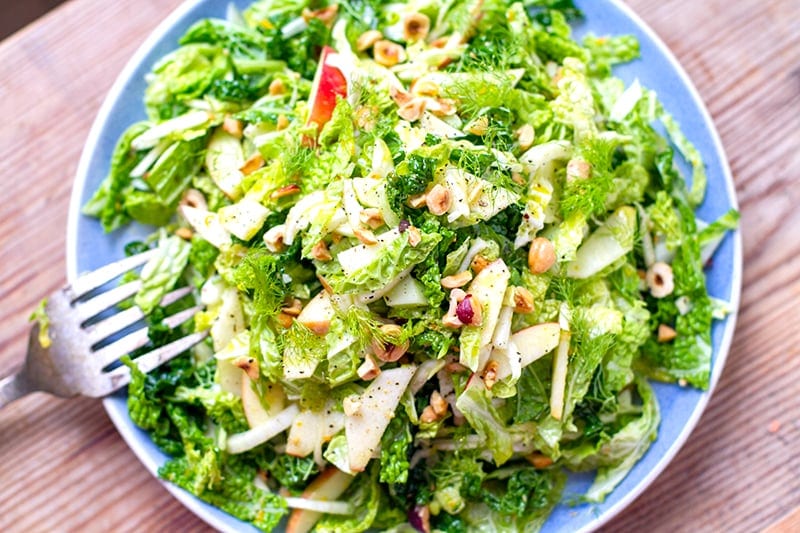 This cabbage, fennel and apple slaw salad is inspired by a green bean salad from Ottolenghi's restaurant. I loved the orange dressing and hazelnuts with the green veggies, and I wanted to try making something similar at home.
I had some lovely Savoy cabbage, which I thought would pair nicely with crunchy fennel and apple. The whole ensemble worked really well, so I thought I'd share the recipe with you guys.
We had this salad with some grilled chicken sausages but it would make a perfect side dish with any protein of choice. If you want a lighter meal, then simply enjoy it as is on its own.
Tips For Making Cabbage Apple Slaw
You can use any type of shredded cabbage: white, red, Savoy, Napa/Chinese, Brussels sprouts or even chopped-up kale.
Savoy cabbage, Brussels sprouts and kale are quite hardy, so I recommend massaging the leaves with a little sea salt and lemon juice before combining with the rest of the ingredients. This will soften the fibres of the leaves slightly.
I used a little sesame oil to give the dressing a slight toasted, nutty flavour but if you can get your hands on some hazelnut oil, that would be even better.  
As for hazelnuts, you can get already toasted nuts or toast the raw ones in the 200 C / 400 C oven for 3-5 minutes, until golden brown. I think toasted nuts have much more flavour. Almonds would also work well in this salad.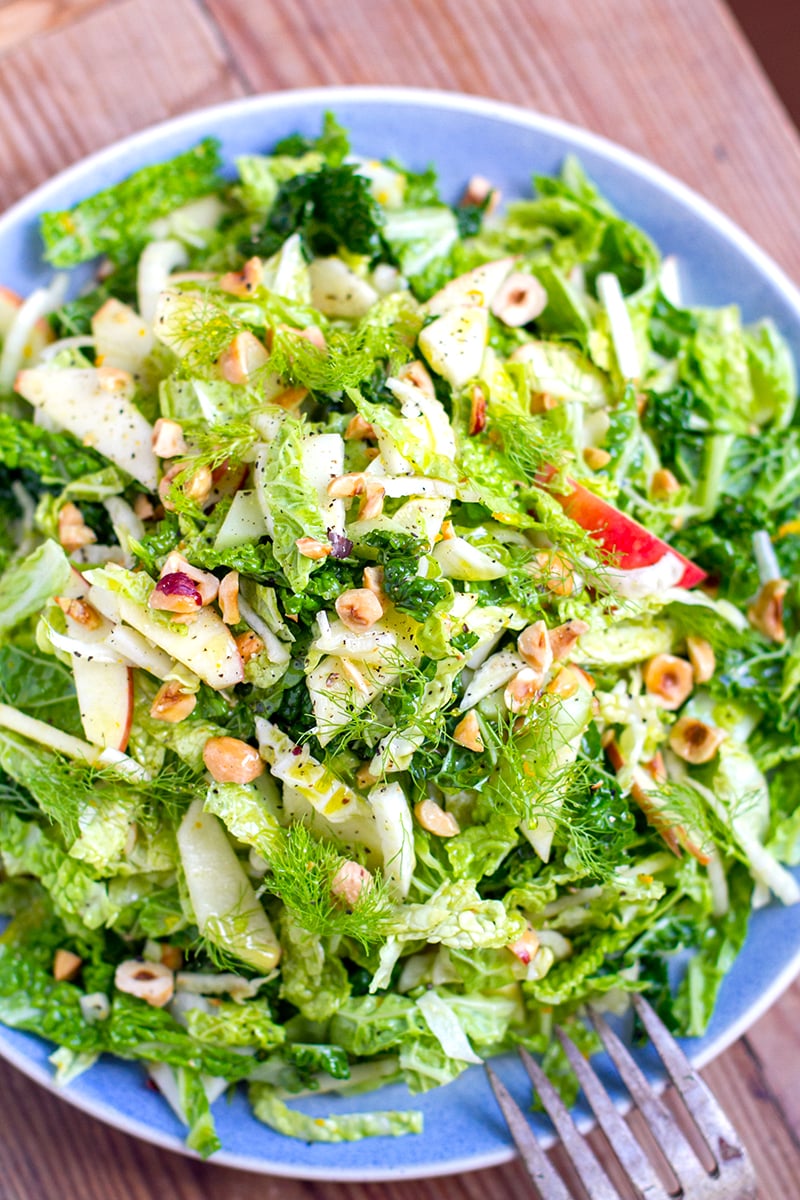 More Gorgeous Salads Here:
Print
---
---
If using something like Savoy cabbage, remove the first few layers of leaves, which are greener, and give them a good wash. Cut away the harder stems and shred the leaves thinly. Then add a few of the more pale green and white leaves as well. If using regular white cabbage, simply remove the core and cut the cabbage half into quarter size chunks, before shredding them thinly. Add the cabbage to a large mixing bowl, sprinkle with a little sea salt and drizzle with juice of half a lemon. Using your hands, mix and massage the leaves gently for 10-20 seconds. Add the fennel, apple and hazelnuts.
Mix the dressing ingredients in a small bowl and pour over the slaw. Mix the salad well using your hands to make sure everything is well coated with the dressing.
---
Notes
If making this salad ahead of time, simply shred and slice all ingredients ahead of time and then massage the cabbage as per step number one closer to serving time. Dress the salad just before you eat it!
Keywords: Vegan, Vegetarian, Paleo, Whole30
---
Save Cabbage Apple Slaw to Pinterest