Braised Cabbage and Potatoes might sound bland and boring but it doesn't have to be. In this post, I share a very tasty way of cooking a cabbage dish with chilli and potatoes – a recipe I stole from my mum. This dish is gluten-free, Whole30 and vegan-friendly.
---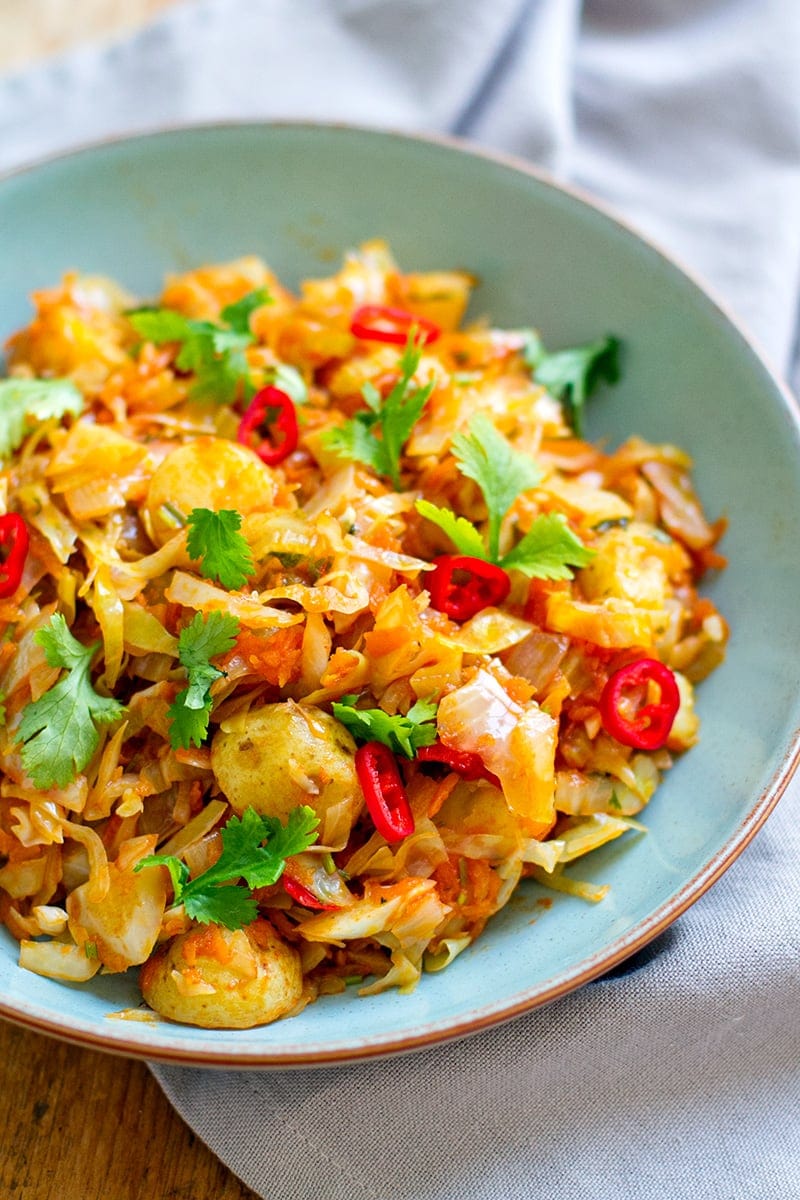 This is a great recipe for using up leftover cabbage and any other veggies you have lurking around in the fridge. It's also a really good meat-free dish that will fill you up and nourish at the same time.
Making Cabbage & Potatoes
You can make a larger batch of this cabbage potato braised recipe. Serve on its own (we did) or as a side dish with protein, if you like. It will keep for up to 3-4 days in the fridge. If you're avoiding nightshades, feel free to use sweet potatoes instead of white potatoes. 
When using potatoes, always peel them before cooking as most of the harmful glycoalkaloids are contained in the skin.
The flesh is actually full of good stuff like vitamin C, fibre and potassium. Furthermore, different types of potatoes have varied concentrations of glycoalkaloids. White potatoes and Russet potatoes are actually quite low in glycoalkaloids.
Eaten in moderation, the white potato can be your friend. However, proceed with caution if healing from an autoimmune condition or trying to watch your carb intake. Here is a good article on white potatoes.
More Plant-Based Recipes
Cauliflower & Pumpkin Dal (Paleo)
Red Cabbage Slaw with Creamy Avocado Dressing
Cavolo Nero & Corn Fritters With Spicy Yoghurt
Vegan & Paleo Nut Roast
Roasted Quinoa Salad With Sweet Potatoes & Brussels Sprouts
Print
---
Description
This braised cabbage and potatoes is a great one-pot dish or it can be served as a vegetable side with grilled meat or fish. It's gluten-free, Whole30-friendly.
---
---
Place potatoes in a small pot of water and season with a generous pinch of salt. Bring to boil and cook for 6-7 minutes, until almost cooked. They will finish cooking together with the braised cabbage.

Heat olive oil over medium heat in a large pot or a deep frying pan that has a lid. Add the onion and sauté for 2-3 minutes, stirring halfway. Then add the chilli, celery and carrots and sauté for 3-4 minutes, until slightly softened and caramelised.

Now add the garlic and cabbage and season with salt and coriander seed powder. Stir through, cover with the lid and cook for 2-3 minutes. The cabbage will release a bit of juice and reduce in size.

Finally, add the diced tomatoes, cooked potatoes and about 1/3 cup of water. Stir through and cover with a lid. Bring the heat down to medium-low and cook for 15 minutes, stirring a couple of times.

Finish the dish off by stirring in a little dollop of butter or some ghee, and the fresh herbs.
---