This website may contain affiliate links and advertising so that we can provide recipes to you. Read my privacy policy.
Air fryer chicken parmesan is cheesy, crispy, and cooks up in less than 10 minutes! It's an easy-to-make dinner that your family will go crazy over!
Air fryers make crave-worthy dinners in a snap! Brown sugar salmon, garlic butter steak, and parmesan chicken tenders are some of my all-time favorite air fryer dinners. I swear cooking them in an air fryer makes them even better! Nice and easy, too!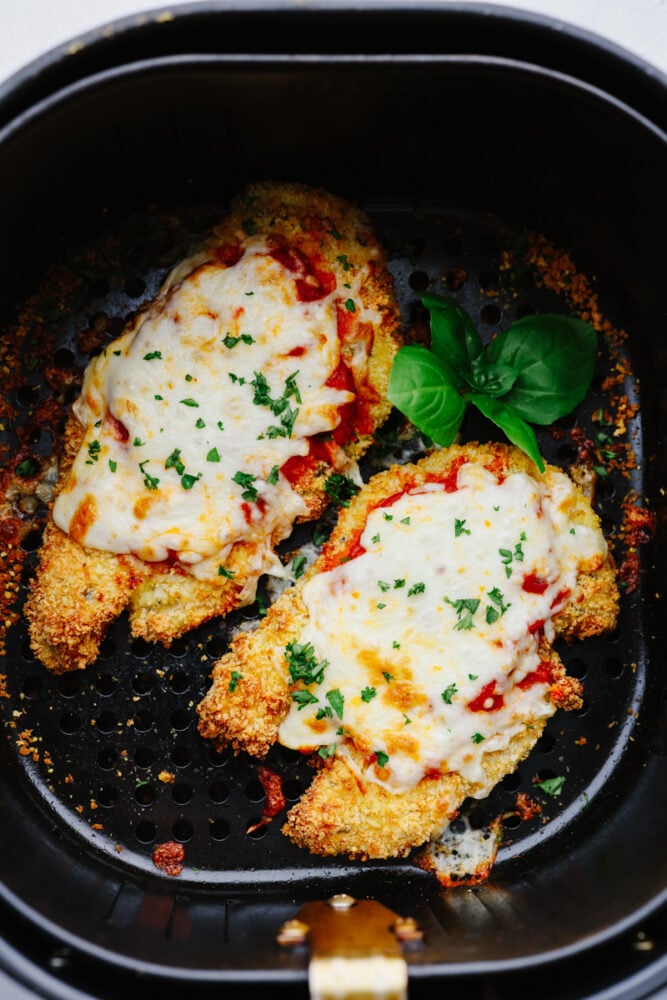 Easy and Delicious Air Fryer Chicken Parmesan Recipe
Chicken parmesan is one of those meals you can't turn down and always has everyone coming back for seconds. It's top-tier! You can't beat crispy breaded chicken smothered in homemade marinara and cheese. This is a family favorite at our house. Using an air fryer makes it sooo easy to throw together- which is great because my kids are always asking for it! This air fryer chicken parmesan is one of the few recipes they'll devour with no complaints. It's picky eater-friendly!
Whether I'm making fries or chicken, my air fryer makes everything perfectly crispy- no oil needed! This chicken parmesan is no different. The breading is so flavorful with the perfect crunch. The melted parmesan and Panko breadcrumbs give each bite the most amazing flavor and texture. Truly, this air fryer chicken parmesan is just as delicious (if not better) as when it's baked. Plus, it takes half the time to cook and has a super easy cleanup! Get ready to have a new, delicious obsession.
What You'll Need for Your Chicken Parmesan
I love that this recipe uses so many basic ingredients. With just a little cheese, bread crumbs, and your favorite pasta sauce, you can create a tasty, hearty dinner in a pinch! If you're looking for measurements, they can all be found in the recipe card below.
Chicken Breasts: Boneless, skinless chicken breasts work great here. I cut them in half so they're nice and thin!
Salt: Just a pinch to enhance overall flavor.
Italian Seasoning Mix: I love to use Italian seasoning to flavor my chicken! You can get this from the store or make your own blend at home. Find my recipe here!
Parmesan Garlic Breading
All-Purpose Flour: All-purpose flour works great to give your chicken a light, crispy outer texture.
Eggs: Whisked together with seasonings to help flavor and batter your chicken.
Garlic Powder: Garlic and parmesan is a match made in heaven! Add for the perfect savory flavor.
Salt: Add to boost flavor.
Panko Breadcrumbs: Added for a light and crisp texture!
Parmesan: I like to use freshly grated parmesan for the best possible flavor!
Toppings
Pasta Sauce or Marinara: Use your favorite pasta sauce or marinara here! I always like to make mine from scratch for the freshest flavor.
Mozzarella: That layer of melty, stretchy goodness is something you can't skip! Mozzarella is the star of the show.
Parmesan: For a little bit of sharp flavor, I add grated parmesan on top of each piece of chicken parmesan.
Let's Make Chicken Parmesan in the Air Fryer!
This air fryer chicken parmesan is as easy as it gets. Once you've got your chicken breaded, it cooks up in minutes! You'll have golden, cheesy goodness in no time!
Prepare Chicken Breasts: To begin, slice each chicken breast in half lengthwise and sprinkle with salt and italian seasoning mix. Set aside.
Breading Station: Create a breading station by placing flour on a plate. In a deep dish, whisk together egg, salt and garlic powder. Mix panko breadcrumbs and parmesan in another plate.
Bread Chicken: Dust the chicken with flour. Dip it well into the egg mixture, shake off excess egg. Next, coat the chicken in the parmesan panko mixture.
Repeat: Place the chicken on a wire rack and repeat with remaining chicken.
Cook: Place in the basket of the air fryer and cook at 390 degrees for 5 minutes. Flip the chicken and cook for an additional 5 minutes.
Add Topping: Top with marinara sauce, shredded cheese and cook for an additional 3 minutes in the air fryer until the chicken reaches 165 degrees and cheese is melted.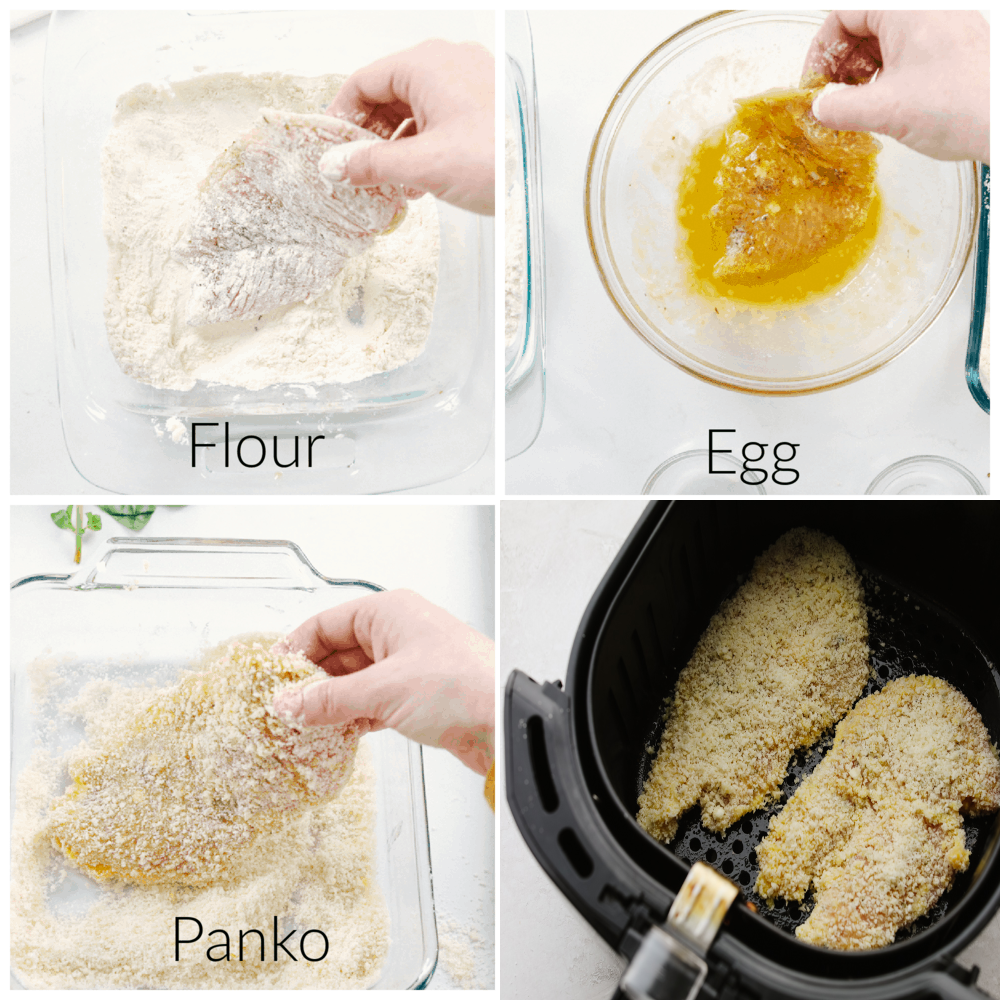 Tips and Variations
Once you get a bite of this tasty, crispy chicken parmesan, you'll be hooked! You may want to make extra, it's going to fly off of your family's plates! Here are a few tips to make successful air fryer chicken parmesan each and every time.
Check Temperature: You'll know your chicken is cooked through completely when internal temperatures reach 165 degrees Fahrenheit.
Keep Chicken Thin: The thinner your pieces of chicken, the more easily they will cook through. If you can't get your slices thin enough, you can use a meat tenderizer to flatten them.
Add Heat: Kick your chicken parmesan up a notch by adding red pepper flakes to your marinara. I love the hint of spice that it adds!
Serve With: I serve my chicken parmesan on a bed of pasta with vegetables and a green salad on the side. You can throw in some homemade breadsticks, too, to complete your Italian-inspired dinner!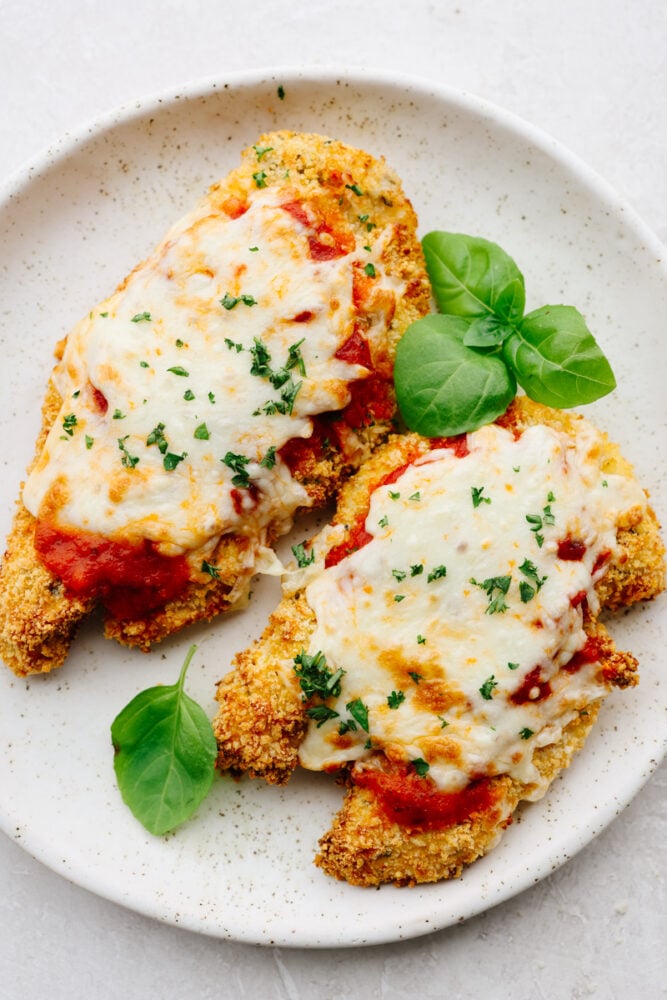 Storing Leftover Air Fryer Chicken Parmesan
With a dinner this good, there's a slim chance you'll even have leftovers to store! Here's how to keep it for a quick and tasty meal!
In the Refrigerator: In an airtight container, your air fryer chicken parmesan will keep in the fridge for 2-3 days. Keep in mind- with the marinara added, the longer it sits, the more likely it is to become soggy.
Reheating: You can reheat your chicken parmesan in the air fryer for 10-15 minutes at 350 degrees F. This helps to keep the outside nice and crispy! Make sure internal temperatures have reached 165 degrees Fahrenheit before consuming.