Shrimp Salad Wraps are a fun low-carb appetizer where tasty shrimp salad is wrapped in cabbage or lettuce to eat it. This recipe was inspired by Denny family favorite Shrimp and Macaroni Salad, the dish I always make for the family Super Bowl party! 
PIN Shrimp Salad Wraps to try them later!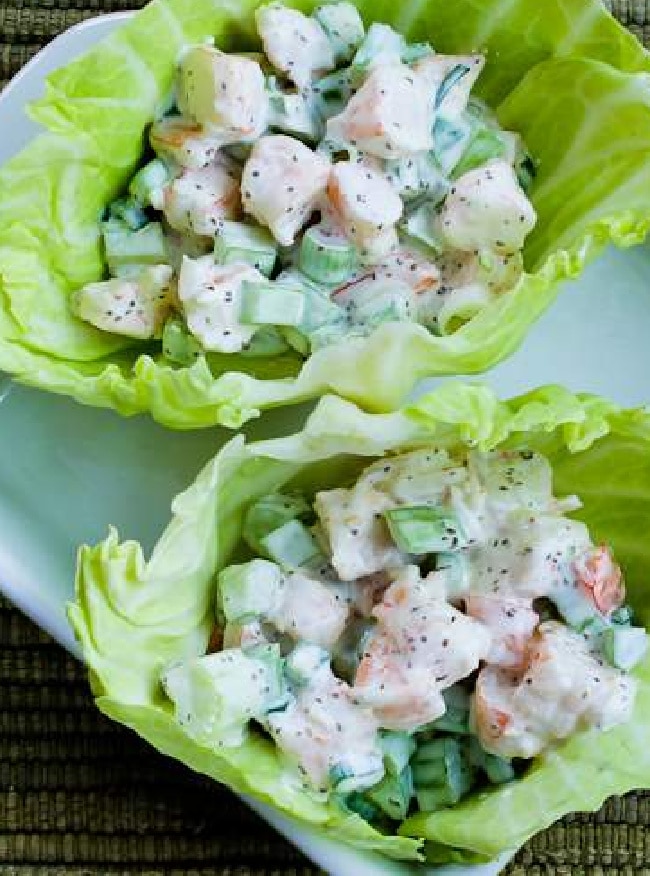 In my family there's no doubt that Family Favorite Shrimp and Macaroni Salad is the most-requested recipe for our annual Super Bowl Party menu! And that's guaranteed to be a crowd-pleaser if you're not so concerned about carbs on Super Bowl Sunday.
But a few years ago I came up with these low-carb Shrimp Salad Wraps that use all the tricks that make my Shrimp Salad such a winner, served in a low-carb cups made of lettuce or cabbage. If you're wondering about the cabbage, think about how cabbage with mayo dressing is so good on fish tacos, and you'll see how it can work.
And my love of lettuce wraps is pretty well-documented; see below for lots more lettuce wrap options if you're also a fan!
What ingredients do you need for this recipe?
frozen cooked shrimp, thawed overnight in refrigerator 
celery
green onion
green cabbage or large leaves of lettuce
mayo
fresh-squeezed lemon juice, I used my fresh-frozen lemon juice
Celery Seed (affiliate link)
salt and fresh ground black pepper to taste
Tips for success with this recipe:
What makes my famous Shrimp and Macaroni Salad over-the-top good is the way I catch the "juice" from the thawed shrimp and then simmer to reduce it to very flavorful shrimp-flavored liquid. That same tip will make a huge difference in the flavor in these shrimp salad wraps, so please don't skip that step!
More Tasty Appetizers with Shrimp:
You can make Shrimp Cocktail Lettuce Cups if you're more a fan of spicy cocktail sauce than mayo-based dressing on shrimp. Or make Shrimp with Low Sugar Cocktail Sauce if you prefer a more traditional shrimp cocktail presentation. And Easy Low-Carb Shrimp Ceviche is definitely one of my favorite appetizers with shrimp!
More Options for Lettuce Wraps:
If you want lots more ideas for tasty lettuce wraps check out Low-Carb and Keto Lettuce Wraps at Kalyn's Kitchen. You can also find round-ups of Slow Cooker Lettuce Wraps or Instant Pot Lettuce Wraps at my Slow Cooker or Pressure Cooker site.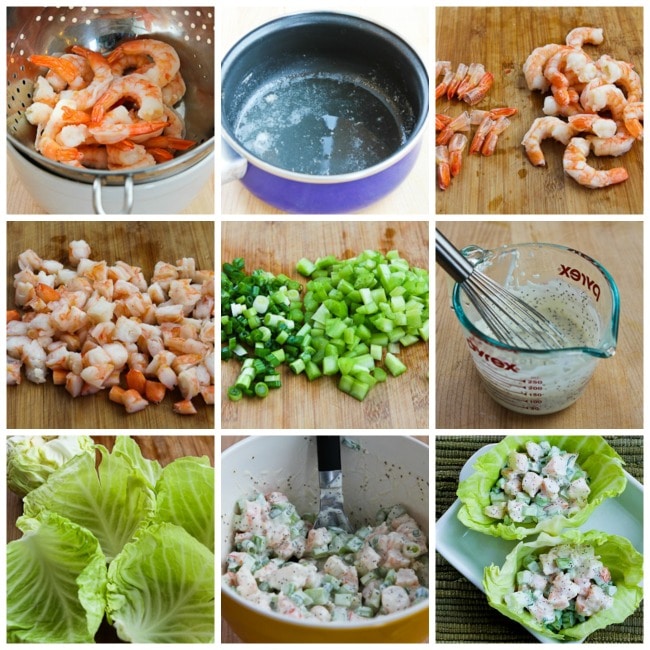 How to Make Shrimp Salad Wraps:
(Scroll down for complete printable recipe including nutritional information.)
Thaw shrimp in the fridge overnight; then drain and catch the "juice."
Simmer the collected shrimp "juice" until it's reduced and the flavor is concentrated.
Pull the tails off the shrimp.  (I only had 3/4 pounds of shrimp, but I wished I'd had more so I'm making the recipe for one pound.)
I used Kitchen Shears (affiliate link) to cut the shrimp into small pieces.
Finely chop a cup of celery and slice about 1/2 cup green onion.
Mix the mayo, concentrated shrimp "juice", lemon juice, and Celery Seed (affiliate link) to make the dressing.
The hardest part of making this with a broken arm was cutting the core out of the cabbage. Use a small, very fresh head of cabbage for best flavor.
Carefully pull off whole cabbage leaves to make cups.
Mix the dressing with the shrimp, celery, and green onion, and fill each cabbage cup with a scoop of the mixture.  Yum!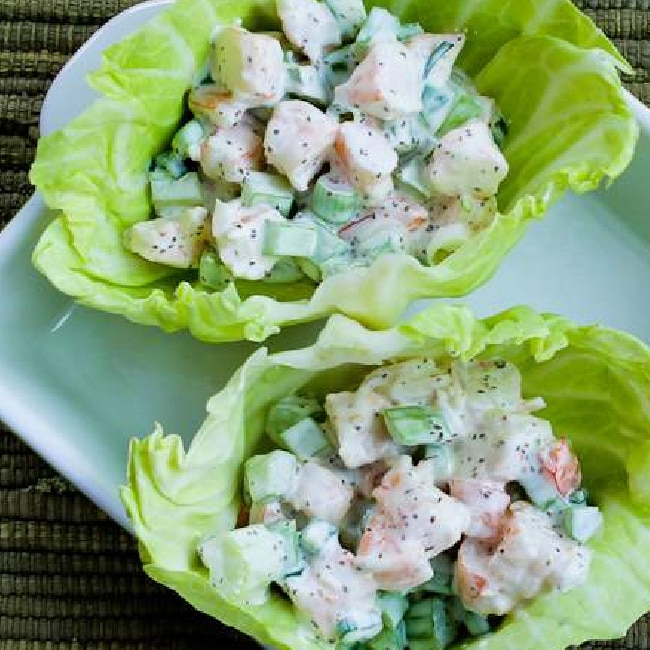 More Low-Carb Shrimp Recipes to Enjoy!
Easy Garlic and Lemon Shrimp
Spicy Broiled Shrimp
Spicy Green Beans and Shrimp Sheet Pan Meal
Cauliflower Fried Rice with Shrimp
Roasted Tomatoes and Shrimp with Feta
Ingredients
Ingredients:
1 lb. frozen cooked shrimp, thawed overnight in refrigerator (see notes)
1 cup finely chopped celery
1/2 cup thinly sliced green onion
1 small head green cabbage or lettuce leaves
Dressing Ingredients:
5 T mayo
1 T concentrated shrimp "juice"
1 T fresh-squeezed lemon juice
1 tsp. celery seed
salt and fresh ground black pepper to taste
Instructions
Thaw frozen shrimp in the refrigerator overnight or longer.
Drain the shrimp into a colander that's placed over a bowl to catch the shrimp "juice."
Put the juice into a small pan and cook over a low simmer until it's reduced by at least half to concentrate the shrimp flavor.
While the shrimp liquid reduces, cut the shrimp into small pieces, chop the celery and thinly slice the green onion.
Use a sharp knife to cut the core out of the cabbage and carefully pull off whole cabbage leaves to make cups.
When the shrimp liquid has reduced, turn off heat and let it cool a few minutes.
Then whisk together the mayo, light mayo, shrimp "juice", lemon juice, celery seed, salt, and pepper.
Put the shrimp, celery, and green onion into a bowl and combine with the dressing.  (You may not want all the dressing; use the amount you prefer.)
Fill cabbage cups with a generous scoop of the shrimp mixture and serve right away.
The shrimp mixture will keep in the fridge for a day or two if you don't eat it all at one meal.
Notes
I used 26/30 size shrimp, but smaller ones would be fine too. Use mayo or light mayo, whichever fits your dietary preferences.
This recipe created by Kalyn.
Nutrition Information:
Yield:
8

Serving Size:
1

Amount Per Serving:
Calories: 155Total Fat: 8gSaturated Fat: 1gUnsaturated Fat: 6gCholesterol: 126mgSodium: 713mgCarbohydrates: 7gFiber: 1gSugar: 5gProtein: 14g
Nutrition information is automatically calculated by the Recipe Plug-In I am using. I am not a nutritionist and cannot guarantee 100% accuracy, since many variables affect those calculations.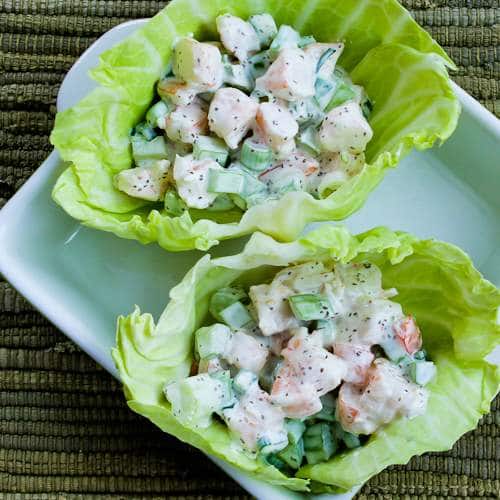 Low-Carb Diet / Low-Glycemic Diet / South Beach Diet Suggestions:
Shrimp, celery, and cabbage or lettuce are all great low-carb foods and also perfect for the original South Beach Diet. Mayo is a limited food for South Beach, but as long as you use portion control, I would eat Shrimp Salad Wraps for any phase of the South Beach Diet and it's perfect other types of low-carb eating plans.
Find More Recipes Like This One:
Use Appetizers to find more low-carb appetizers like this one. Use the Diet Type Index to find more recipes suitable for a specific eating plan. You might also like to follow Kalyn's Kitchen on Pinterest, on Facebook, on Instagram, or on YouTube to see all the good recipes I'm sharing there.
, the dish I always make for the family Super Bowl party! [found on KalynsKitchen.com] #ShrimpSaladCabbageCups #LowCarbShrimpSalad #ShrimpSaladAppetizer">
We are a participant in the Amazon Services LLC Associates Program, an affiliate advertising program designed to provide a means for us to earn fees by linking to Amazon.com and affiliated sites. As an Amazon Associate, I earn from qualifying purchases.