These buffalo deviled eggs with crispy bacon are a spectacular fusion dish that can be served as an appetizer, finger food, main side, or even main course. Whether you're a fan of buffalo chicken wings or deviled eggs, this recipe is must-try. This recipe is paleo, gluten-free and keto-friendly.
---
I often see buffalo sauce used with a variety of foods: buffalo chicken strips, buffalo cauliflower, buffalo shrimp and or so on. So, why not use that buttery, hot sauce in the deviled eggs creamy yolk filling? After all, the name 'devilled' comes from the egg filling having some spicy, zesty condiments like mustard or cayenne pepper. Using buffalo-inspired sauce seems rather fitting.
If you've never made deviled eggs before, do not fear! They're super easy and you can bring a platter to the next party and everyone will be thoroughly impressed. Plus, it's one of the foods to make ahead of time as they will keep well in the fridge for a day or two (just add the toppings when plating).
WHAT IS BUFFALO SAUCE?
The buffalo sauce (the name comes from Buffalo region in the United States, where the chicken wing recipe comes from) is made with butter and hot sauce as the main ingredients, so this recipe is not 100% dairy-free. If you can't tolerate butter, try using ghee (which is essentially dairy-free) instead. You could also modify the recipe slightly to use mayonnaise and hot sauce. Otherwise, this is a low-carb, keto-friendly, paleo-ish and Whole30-ish kind of recipe.
HOW TO MAKE BUFFALO DEVILED EGGS
This recipe uses 6 large eggs, which makes 12 deviled egg halves. I would say you're looking at 2 halves per person so multiply the ingredients if you want to make a larger batch.
You will find the full instructions, ingredients and nutritional breakdown just below but here are some step-by-step photos to guide you along.
A little hot sauce is also used in the mayonnaise we use to top the finished eggs and I've added some crispy bacon in the yolk mixture and on the top for that delicious, salty umami kick.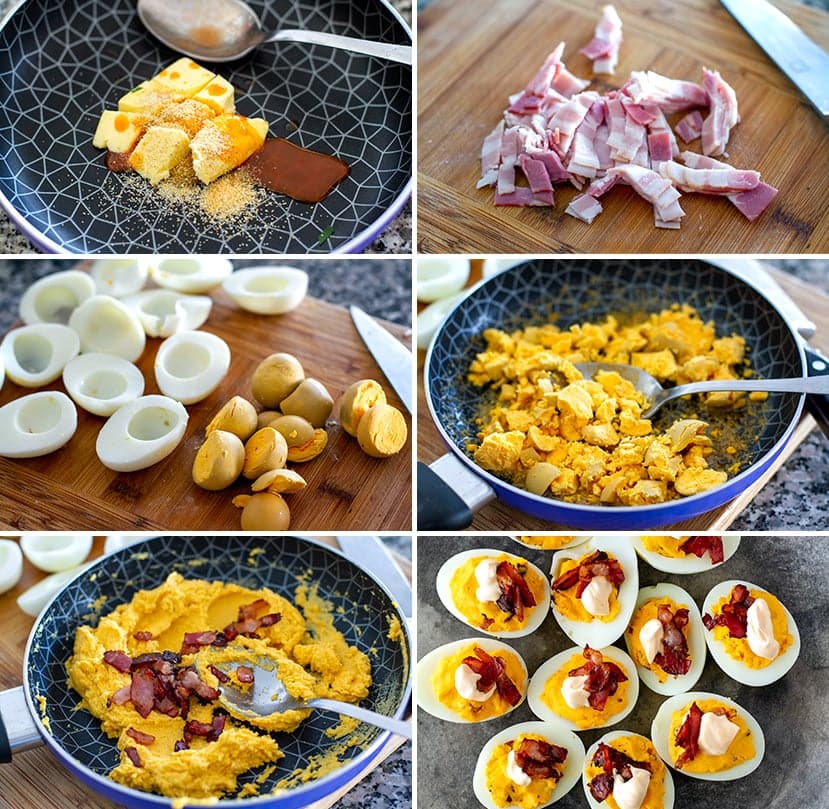 These buffalo deviled eggs are perfect for any dinner party, game night, Thanksgiving and Christmas, Easter (especially if you have to use up hard-boiled eggs) and as a quick snack or lunchbox food.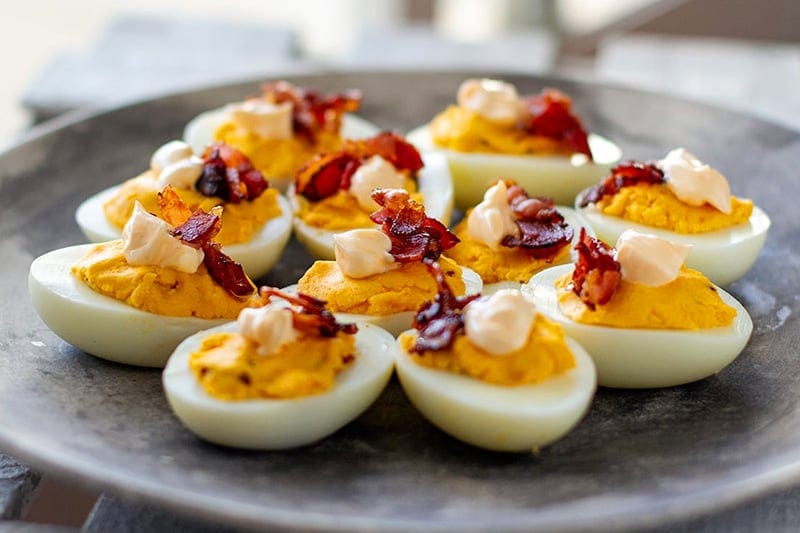 MORE HEALTHY APPETIZERS & FINGERFOOD
Print
---
Description
I made a smaller batch of buffalo deviled eggs for this recipe but you can easily double the ingredients if cooking for a bigger crowd. I recommend using large eggs as they are easier to handle.
---
---
Place the eggs in a medium pot with cold water. Bring to a boil and cook for 6-7 minutes. I recommend stirring the eggs (rotating top and bottom a couple of times, especially at the beginning, to make sure the yolk doesn't end up too much on one side. Strain and submerge the eggs in really cold water.
While the eggs are cooking, pan-fry the diced bacon in a little oil until crispy and set aside.
Peel the eggs and cut them lengthways. Remove the yolks with a spoon.
Mix the hot sauce with butter, garlic powder and onion powder and place over medium-high heat. Add a little salt and stir through until melted.
Add the yolks to the melted sauce and mash with a fork or a spoon. Add a tablespoon of mayonnaise and mash together until smooth. Add half of the fried bacon pieces to the yolk mixture and combine (leave the rest for the bacon for later).
Add half a teaspoon or so of the yolk mixture back to the egg white half and press down with your fingers. Continue with the rest of the mix until all egg whites are filled.
Mix another tablespoon or so of mayonnaise with a few drops of hot sauce. Top each egg half with a dollop of spicy mayo and a few pieces of crispy bacon.
If making these devilled eggs ahead of time, save the mayonnaise and bacon toppings until service time.
---
Nutrition
Serving Size:

2 halves

Calories:

197

Sugar:

0.4 g

Sodium:

305.5 mg

Fat:

17.6 g

Saturated Fat:

6.4 g

Carbohydrates:

0.9 g

Fiber:

0.1 g

Protein:

8.2 g

Cholesterol:

207.3 mg
SAVE THIS DEVILED EGGS RECIPE TO PINTEREST